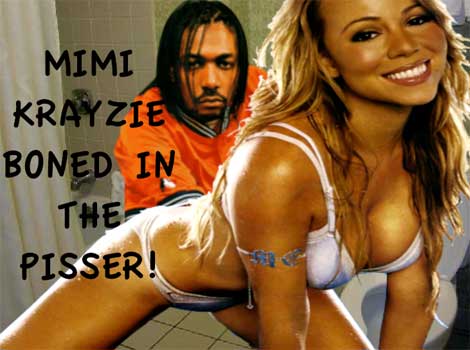 "Mariah used to get stupid drunk, and was easy to smash."
HSK Exclusive – We've learned sizzling details of a studio session Mariah Carey shared with Krayzie Bone, reportedly ending with 'a boozed up' Mimi letting the 'Bones Thugs-N-Harmony' music man hit that … inside the recording studio's bathroom!
According to our tipster, the pair's smash session went down back in 1999. That's when Mimi featured on Krayzie Bone's "I Still Believe" track, recorded in Santa Monica. We're told not only did the incident mark just one of Mimi's cheating smash sessions — behind then-BF Luis Miguel's back — it's also telling of how loose she gets on that liquor!
Here's the drop:
"Ni–as used to wait for Mariah to get drunk because they knew they could smash. Mariah was a slut. That's why Eminem played her. Cam'ron smashed her too."