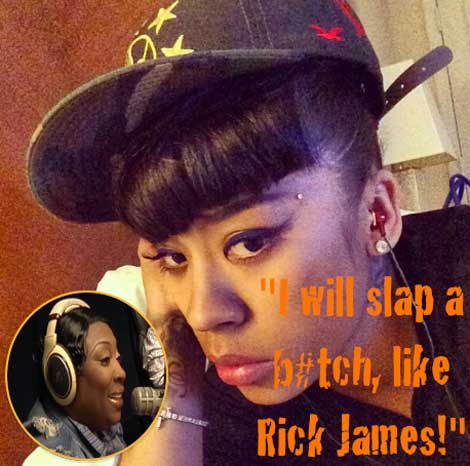 "We handle a lot… we take care of our men, we handle our jobs, we do all kind of craziness to make sure the household is stable. And then, we don't get enough credit for it! That's the only thing I be worried about."
Early this morning… Keyshia Cole took it back to Twitter to let it be known that she wasn't only speaking for herself when she put Wanda Smith in check. Ms. Rick James was speaking for all Women who she says, "don't get enough credit." Don't believe me.. Just ask Sabrina Rojas Weiss — who was previously mistaken for Keyshia serving up a professional.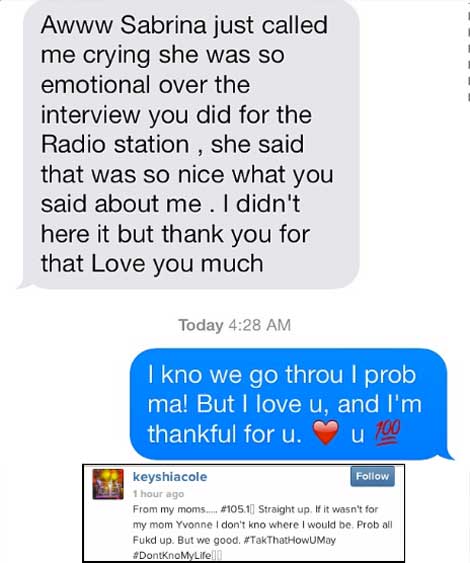 You'll recall Keyshia's over-the-phone interview with ATL's V-103 led the singer to lash out at Wanda Smith, after the radio personality questioned whether or not she's "wifey material." This, after Ryan Cameron brought the Boobie questions to the table… asking if Keyshia's "Rick James" lyrics could have been inspired by the pair's break-up.
"Dudes do what they do. I really don't feel like there's no dude out that's gonna keep it 100. That's just what I see… period."
Here's how it all went down:
Ryan Cameron: "What went wrong? Ya'll was just here together you know what I'm talking about… you know I'm gonna ask the real questions. I thought ya'll was forever."
Keyshia Cole: "Some things don't last forever…We definitely are co-parenting right now. He's a great father, and I want to stress that issue because there's a lot of guys out there that don't take care of their children after the relationship don't work. He's been there for DJ and he makes sure DJ is well taken care of… not just financially, he comes everyday to pick DJ up and take him to school… and I pick him up from school because my hours is late right now. You know what I'm sayin'… so we good, we workin' it out, we straight."
Ryan Cameron: "You don't sound straight, you sound politically correct…"
Keyshia Cole: "I know, I know. But it's not easy to deal with at all. I don't know what it was, but I know that my intentions was good. I'm sure his intentions was good. I'm thankful that we were able to have my child. So I can't necessarily say that we rushed into anything because God gives you what he gives you. So for me and him to have been able to have a child is a blessing. That doesn't necessarily mean that we have to stay together to make sure that my son is raised properly."
That's when Wanda stepped in, asking Keyshia: "Do you feel like you're wifey material?" …and Keyshia Got Real With It, Son! "You know what… ya'll really fukkin with my sh*t right now… I got some other sh*t going on… what cha'll wanna talk about?
Wanda Smith: "I'm sayin' because you're so busy and your had a lot going on…"
Keyshia Cole: "What you mean?"
Wanda Smith: "Because you were so busy…you had your career poppin' off and you had to kind of phase out and start to do the wifey thing… the cooking… taking care of the kids… were you really ready for that or were you still you know, trying to do your music thing?"
Keyshia Cole: "Are you trying to insinuate that I was one-dimensional?!"
Wanda Smith: "…Like with Monica, for instance…"
Keyshia Cole: "Listen… listen… Monica is I'm sure doing her thing. This ain't the first the rodeo for Monica. She been through the wringer… this, that and the other.. But at the end of the day we can handle ALL that… it's the point of the man takin' care of his business. Straight up on that. You know what I'm saying, we good… we handle our sh*t, we good, we do what we do… period…. Now I'm ready to smack a b*tch… they don't give enough credit."