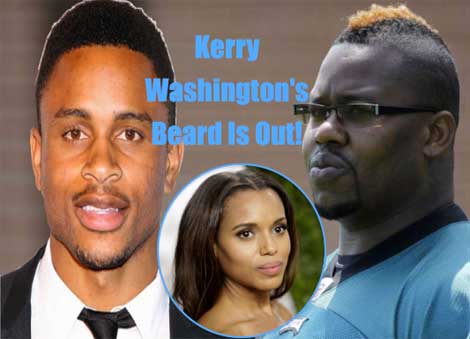 HSK Exclusive – What do Kerry Washington and Shawn Andrews have in common? According to our tipster ..smash sessions with Nnamdi Asomugah! Don't believe me.. Ask his younger brother Stacy Andrews.
"Kerry Washington's recent wedding and unexpected pregnancy to Nnamdi Asomugha left many scratching their heads.
The couple was never seen dating or even out in public together until after walking down the aisle."
This news comes about a year after word broke that the former NLF guard for Philadelphia Eagles suffered a deep depression, before exposing Donovan McNabb for forming a coup within the team against Andrews, over his homosexuality.
"He stopped showering at the same time as the rest of the team, or would shower in a corner, facing the wall, so as not to be accused of peeping."
Here's what Terez Owens previously reported:
"Everyone in the NFL knew he was gay, and he's slept around a lot, even once with a former Philly player who is now out of the closet, and who I am friends with, thus I have DIRECT information on it. Now that he has "switched" careers to acting, he's been seen for example, at Thursday's John Wooten Awards event in NYC chatting up an unknown young man for the whole night… and leaving with him. So because it's not just confined to sports anymore, as those pre SB events had many people witnessing various things, including this one, he is not as protected as he was before. People TALK" said our source. Maybe that's why he retired?"