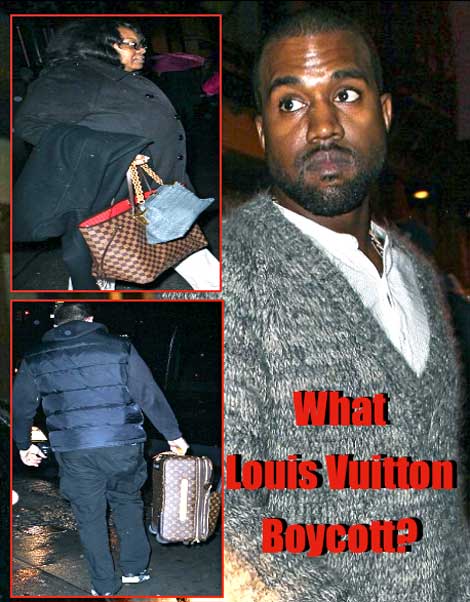 Kanye may have announced a boycott against Louis Vuitton, but that doesn't mean he's following suit. Just this past Tuesday, Yeezus was spotted leaving his NYC apartment … with some Louis luggage in tow!!!
Now, sources say, "after the rapper's outburst against the brand, it is surprising the two items weren't immediately banished."
Here's what The Daily Mail is reporting:
"Someone clearly didn't get the memo as Kanye West and Kim Kardashian's staff were spotted loading the couple's luggage into a car. An LV tote bag and suitcase were among the belongings."
Here's what Kanye previously announced on 92.3 NOW radio, regarding Louis Vuitton's VP Yves Carcelle:
"What happened was while I was out in Paris I wanted to meet with the head of Louis Vuitton, he said I don't understand why we need to meet with you. 'I said, Let me explain to you why you need to meet with me.


Everybody in New York City right now don't buy any Louis Vuitton until after January. Now do you want to meet with me? Now do you want to meet with me? 'Influence. They think that I don't realize my power."
Does Kanye run around saying Kim Kardashian "is the most beautiful woman of all time"? Of course! Just ask Angie Martinez.