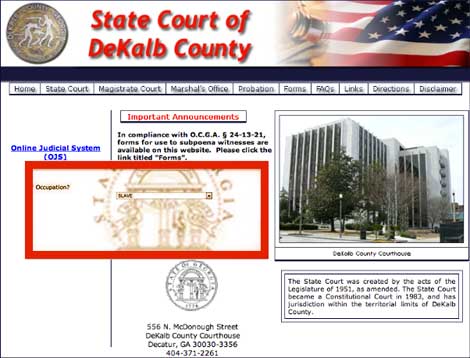 "A man completing the form hit the letter "s" for sales and he says he got "slave" instead."
Slavery may have been abolished almost a century-and-a-half ago, but one Georgia county seems to still believe being a 'Slave' is still a J-O-B.
That's according to an 'eJurorOnlineForm' for the Georgia State Court of DeKalb County website — where "slave" was listed as a choice from its list of occupations.
Now that the recent revelation is making national headlines, the suspected racists behind it all haven't only removed "slave" from its eJurorOnlineForm … they're also claiming it was a mistake.
"Hopefully it's just a glitch and hopefully it will be worked out, It doesn't make sense, but at the same time people make mistakes." ~Dekalb County spokesperson
Here's what Atlanta's WJBF News is reporting:
"A court spokesperson says the list of occupations is 62 pages long. She's not sure if the word slave has always been on the list, or if someone added it before the program went online to the public.
The company that designed the software says the drop down menus in the survey are inputted by the user. As for the occupation slave, the court administrator says it has been removed, but figuring out how it got there, and when will take much longer."
Here's what President of Dekalb County NAACP, John Evans, had to say:
"We can't go around and think everything is peaches and cream because it's 2013…"