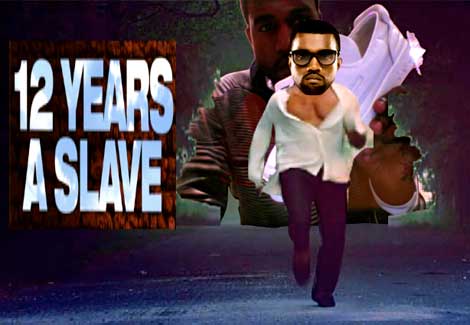 "I kind of saw that side of what it was, as a creative, to be free, the parallel to the main character in Twelve Years a Slave. When it was taken away from me, it felt like what it felt like as a creative to be enslaved." ~Yeezus
Running For Cover?
HOLD UP … Does Kanye really believe he's a Conscious Black Man? The same Kanye who asked Jimmy Kimmel 'Who has more clothes than me?" Um … we've got news for you, dude — You're NOT, but the only thing you do have right is … you ARE a corporate Slave.
Now, many are wondering if Jay Z's Barneys controversy pushed Kanye to pull an attempt at putting a band-aid on his previous deals with luxury vendors, like Louis Vuitton — insinuating that he didn't know what he was doing at the time of those deals with the Devil. Don't believe me.. Ask Karl Lagerfeld.
"The reason, literally, why they would sell on Barneys' floors is because me and Jay Z and everyone wore it."
Here's what Kanye had to say on Brett Easton Ellis ' podcast:
"In the past when I've dealt with attempting to create in otherfields, or attempting to create in clothing. I've kind of been on this campaign that started with, ironically, my song, 'New Slaves.' Where I was sitting in Paris and dealing with all of these companies that I had promoted, and I saw my friends promote it.

And the reason, literally, why they would sell on Barneys' floors is because me and Jay Z and everyone wore it. It'd be something that maybe I kind of discovered four years before then me and Don C started putting it on trend.

Then you start doing more research and say, 'Hey, I want to be a part of the creative conversation and be able to make money off of that also.' They stop you right there and say, 'You can't be a part of that conversation,' or they'll give you a one-off. At Louis Vuitton I did one shoe. At Nike I did two shoes but they spread them apart
over four years and they had the most impact possible."
Does 2013 really mark 12-years since Kanye embarked upon his Blueprint plot of fashion trendsetting the feminization of the Black man? Of course … Just ask his counterpart JZ Penney.