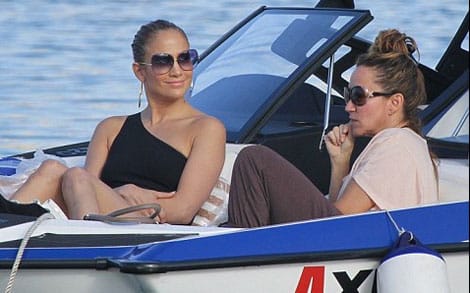 "She's a serial monogamist and she falls hard and fast for seemingly whomever guy is in the right place at the right time."
Jennifer Lopez seems to be suffering from a serious case of separation anxiety. That's because insiders say the "Live It Up" singer used to force her cousin/assistant, Tiana Rios [pictured with J-Lo], to sleep in bed with her "when she gets lonely."
"I just get so lonely in bed! But it has nothing to do with sex." ~J-Lo
Here's what a source revealed to the Enquirer:
"When Jennifer and her ex MARC ANTHONY were traveling all over South America taping for their 2012 TV talent show 'Q'Viva,' Casper often didn't accompany her – and when he wasn't around, she'd ask her female cousin/assistant, Tiana, to spend the night right next to her."
Did Tiana Rios quit her assistant gig with her cousin J-Lo, only to accept an an invitation to serve as the assistant for Marc Anthony's ex-wife? Of course! Don't believe me.. Just ask Dayanara Torres.