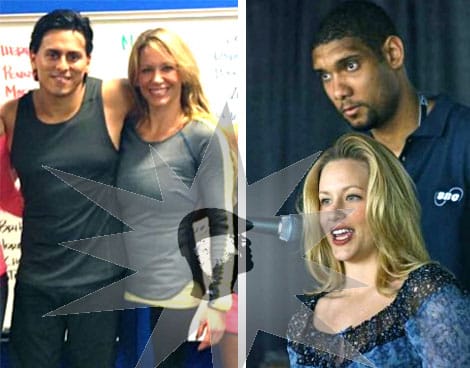 HSK Exclusive – We've learned the identity of the man suspected to be involved with Tim Duncan's wife of 12-years!
Sources reveal Gil Urbano, a former stripper, now has Amy Duncan to thank for getting him off the strip pole. Know why? Because she reportedly bought a gym where he poses as the owner, and she apparently is the silent owner who is known to frequent the spot.
"He's a dead beat! He was a stripper and now thinks he's the shit because he teaches Brazilian fighting."
Gil Urbano and Amy Duncan aka Amy Dourada Capoeira's 'The Vessel' aka 'Crossfit: The Vessel' — located at 17460 IH 35 North, Suite 200 Schertz, Texas 78154 (less than half-an-hour from San Antonio) — opened its doors back in April 2012. That's around the same time Tim Duncan reportedly hired a private detective to tale his basketball-wife-turned-whore.
Sources say Amy — who shares two kids with Duncan — has been involved with Gil Urbano for about two-years. During that time, sources reveal she didn't only use her hubby's NBA money to fund 'The Vessel', she also filed for divorce from the NBA All-Star player.
Here's what a source tells The Dirty about Gil Urbano:
"He's a player and a user and that's why his ex-wife left him! We don't want him in San Antonio, he needs to go back to Houston where he says he's supposedly from!"
Did Tim Duncan — who recently signed a three-year $36-million dollar extension with the NBA — cover his ass by insisting Amy sign a pre-nup? Of course! Just ask Gregg Popovich…