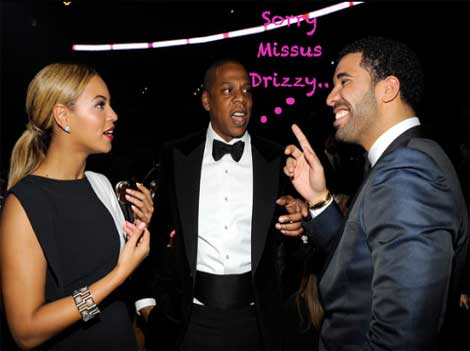 As it stands, Aubrey 'Drake' Graham hasn't got a thing to say after Jigga called dude out as a girly-man. Just in case you haven't been hipped… over the weekend — Jay Z dedicated eight-bars to Degrassi Boy, in response to his diss on Mr. Hova Carter.
Peep Jay's featured verse in Jay Electronica's "We Made It":
"Sorry Mrs. Drizzy for so much art talk. Silly me, rappin' 'bout s**t that I really bought — while these rappers rap about guns that they ain't shot — and a bunch of other silly s**t that they ain't got."
That was in response to Drizzy's mention of Jay Z, during part of a recent interview.
Buss it:
"It's like Hov can't drop bars these days without at least four art references," Drake says in the article. "I would love to collect [art] at some point, but I think the whole Rap/art world thing is getting kind of corny."

Prior to that, Drake was believed to have made a reference to Jay Z and Kanye on "Im On One."
"I'm just feelin' like the throne is for the taking," Drake raps on the track. "Watch me take it.
Drake admits that he wasn't in good graces with Kanye and Jay at one point. "It was a lack of communication paired with natural competitiveness, competitiveness," Drake says in the piece. "But those two are gods to me."
Check out "We Made It" for yourself:
https://soundcloud.com/cracktracks504/we-made-it-jay-z-x-jay
In his last interview with Rolling Stone Magazine Drake made a sideways comment about Jay Z being corny for always using art references in his raps.