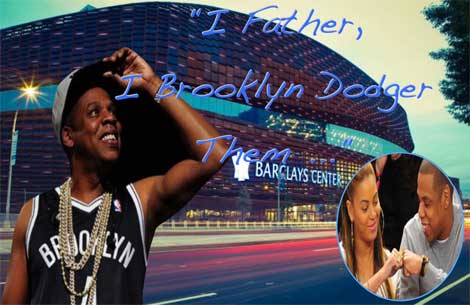 "Jay Z was used to con the people of Brooklyn."
Brooklyn's Finest Finagler!
Jay Z's deal with Barneys New York ain't the first time the ratchet rapper happily signed up as a Corporate America Token-Negro, throwing his own people under the bus. Don't believe me.. Just ask Cause Of Action founder Dan Epstein, who's blowing the whistle on the project he proves falls under 'Political Profiting.'
"The Barclays Center was always part of a bigger plan at Atlantic Yards in exchange for $270 million dollars of taxpayer money."
Insiders say promises made by Barclays Center developer Forest City Ratner are proving to be lies — signed, sealed and delivered by Brooklyn's own Marcy Projects native Jay Z.
"It did not create the jobs that were promised — and it did not create the affordable housing that was promised."
Now, more than a year after the sports arena/concert venue opened its doors, many Brooklyn residents say they aren't holding their breath over the 10,000 permanent jobs and 2,000 units of affordable housing they were promised through the Forest City project.
"Promises really aren't good enough this time. This time, we need written commitments that are enforceable."
That's why Cause Of Action is blowing the whistle, revealing only 2,000 [mostly part-time] jobs were created in eight-years, with affordable housing left still in the making.
Here's what Forest City spokesperson Joe DePiasco had to say:
"We intend to meet all of our commitments, as we've been doing all along."
Here's what PIX 11's Joe Mauceri reports:
"According to the report, Atlantic Yards isn't the only project where Forest City has failed to deliver on its promises for government subsidies. Cause Of Action says the company also received millions of dollars for a project in New Mexico that it sold before delivering as promised

With Forest City now in talks with a Chinese developer to sell a majority stake of the project here in Atlantic Yards, some are concerned that the pattern could continue here in Brooklyn."
Did Shawn 'Blue Told Me Remind You Niggas Fuck That Shit Y'all Talking 'Bout, I' m The Nigga' Carter forget where he came from only to become one of Brooklyn's Finest Finaglers? Of course.. Just ask Dania Diaz.