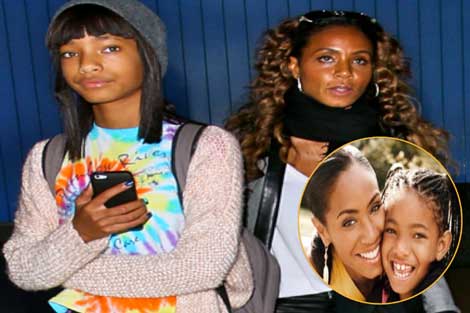 "I'll do anything to save my baby."
If Jada Pinkett could do it all over again, she wouldn't let Hollywood get a hold of her kids. That's why the actress is said to be struggling to instill Willow with the morale of placing family above fortune and fame.
Reports reveal the estranged Mrs. Smith is aiming her attention on "rescuing" her 13-year-old daughter. It's a mission many agree could be long overdue. Know why? Because the "Summer Fling" singer has been exhibiting troubled behavior, suspected to be cries for help.
"I think my thoughts are trying to murder me." ~Willow Smith
Here's what a source reveals:
"Jada is terrified that Willow's already a victim of the 'too much, too soon' lifestyle that's destroyed so many young performers. She's even admitted that she and Will might have made mistakes allowing Willow and her big brother Jaden to reach for the stars so young. But Jada's convinced that tough love combined with quality time together can undo the negative effects of developing Willow's talent at the expense of her child¬hood."
Did Will Smith spend more time with Duane Martin than he did with his wife and kids? Of course. Don't believe me.. Ask Tisha "Broad Shoulders" Campbell.