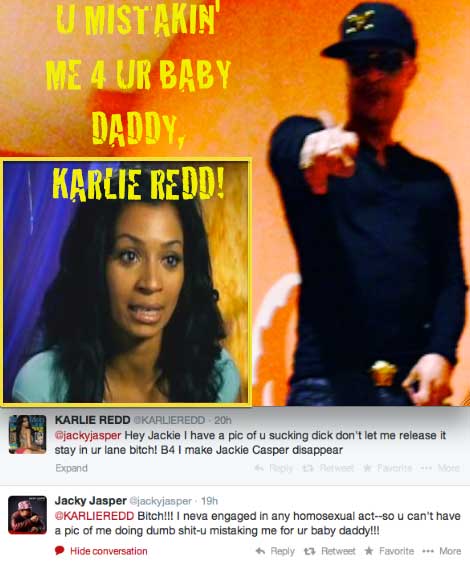 Karlie Redd had a whole lot to Tweet about Jacky last night. Not only did this washed up heaux straight disrespect a playa [from behind her computer], this never-was, never has-been also had the audacity to make this outrageous claim, "I have a pic of you sucking d*ick". It's a post Karlie 'Lyin' Fake Azz' Redd has since deleted from her BS profile. Know why? Because she recognized she pulled that BS on the wrong dude!
Here's how Jacky broke down this pitiful excuse for a woman, Karlie Redd:



You'll recall.. Back in August 2012, HSK broke first word of Keisha 'Karlie Redd' Lewis' onetime tight connections to one [now locked-up for life] drug kingpin. Don't believe me.. Just ask the daughter the fallen reality star shares with him, Jazmin. That's suspected to be the real Keisha/Karlie is so mad.