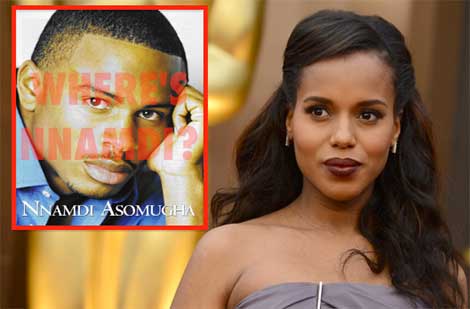 HSK Exclusive – Nnamdi Asomugha has been M.I.A. for many of Kerry Washington's biggest moments, since the pair reportedly tied the knot.
Now… seven-weeks after giving birth… Could the Scandal star be suffering from a serious case of bearded-baby-momma blues? Kerry is really the only person who can answer that question, but one thing's for sure: she never once mentioned Nnamdi's name during her sit down with the LA Times, yesterday — her first interview since the pair became parents!
"She's remained tight-lipped about her child and how her life has changed since her arrival." -LA Times
Here's what Kerry said, just yesterday:
"But I will say I feel really, really blessed. I feel really blessed that I'm kind of living extraordinary dreams come true in my work life and in my personal life."
Let's not forget… dude did leave a very pregnant Kerry Washington to walk a number of red carpets on her own. That would include Oscar's red carpet. Previous reports also reveal… he pulled M.I.A.'s for Kerry's 37th birthday, NYE AND Mother's Day!
On May 11, she wrote: 'Well…I still wont talk about my personal life on here. But…I see your tweets. And I am filled with gratitude! XO #HappyMothersDay.
A trip to both of their IG accounts reveal… neither of the pair showing one another any social media love, let alone pictures. Nnamdi, who's been inactive from social media since May 16th, make the following May 2nd post… but there's NO mention of Kerry!

Let's Go!!!