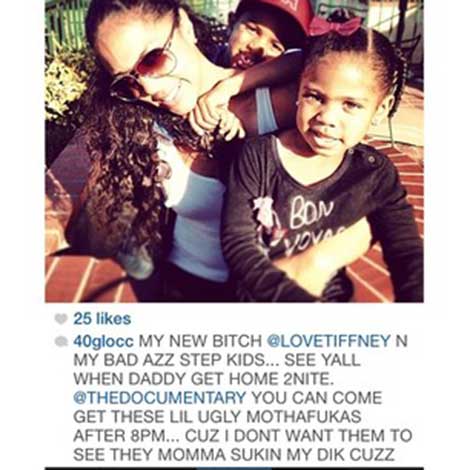 Karma is a Dish Served Best Cold!
The Game is not having a good week. LAPD has launched an investigation into domestic violence claims made against the rapper by his longtime fiancee, Tiffney Cambridge, who claims the rapper beat her during an argument. Followed by, Tiffney taking to the media to judge the rapper guilty. Now, his nemesis 40Glocc has aimed his social media at Game for a little kicking while he's down.
40 now claims his accounts were hacked, but we'll let you be the judge.
Here is what TattleTailzz.com is reporting:
"40 Glocc wants the Game to know that he is now with the mother of his kids and putting her on straight blast! Mind you the Game and 40 Glocc fought before and Game gave him a beating, can you say this is revenge?

40 Glocc posted an interesting Instagram pic of Tiffney and her kids with the Game, shouting out that she is his new boo and to his new step kids…. He posted a long rant with a picture of Tiff on Instagram smoking what looks like a blunt putting her on complete blast, disrespecting his children."
Here is some of what was said via  40Glocc's social media accounts:
"YEA CUZZ U MIGHT OF KNOCKED ME OUT BUT IT AINT OVA… I GOT YO BABY MAMA @LOVETIFFNEY ROLLIN MY BLUNTZ N SMOKIN THAT GOOD WEED OVER HERE RIDIN SHOTGUN… THIS BITCH SUPPOSED TO BE A SCHOOL TEACHER & ALL INTO CHURCH BUT SHE OVER HERE SMOKIN MARIJUANA WIT A REAL NIGGA.. GLAD THIS HOE DONT TEACH MY KIDS LOC !!!!! TOLD YOU I DO DIS SHIT FUK BOY.. TAKE MY STREET CRED… I TAKE YO KIDS MOMMA N TURN HER INTO A HOE… YOU AINT HIT HER TOO HARD CAUSE HER OLD ASS STILL KINDA CUTE FOR A 50 YEAR OLD WAK PUSSY HAVIN TEACHER… IM JUST CURIOUS.. WHEN THEY START LETTIN SCHOOL TEACHERS SMOKE WEED ??? BITCH JUST LIKE THE REST OF THESE BITCHES OUT HERE TRYNA ACT ALL HIGH SOCIETY.. SHE MY BITCH NOW CUZZ.. KEEP THE KIDS.. WE DONT WANT EM.. WE STARTED OUR OWN FAMILY LAST NIGHT… ASK HER WHERE SHE WAS LAST EVENING… BET SHE WASNT AT HOME WIT THE KIDS TIL AFTER 10 ON CRIP !!! WORD ON THE STREETS SHE AINT NEVER WIT YALL KIDS N SHE WONT EVEN LET YO PUNK ASS SEE EM…. GUESS THATS WHY YOU AINT POSTED PICS OF THEM IN WEEKS… HIT ME N ILL TELL HER TO LET YOU SEE EM CUZZ…. N SHE STILL AINT SHIT… WHAT KINDA BITCH FUK A NIGGA ENEMY ANYWAY??? I TELL U BOUT THESE HOES CUZZ… TELL U WUT.. ILL SEND HER WACK ASS BACK TO YOU WHEN WE DONE WIT OUR REALITY SHOW "AFTER THE GAME" !!!! & SHE TOLD ME SHE GONE LET ME FUK HER AND HER DIKE GIRLFRIEND @OFFICIALTAMIROMAN NEXT !!!! I CANT WAIT !!!!! #THESEHOESAINTLOYAL #40GLOCC #YONJU #ZOOLIFE @tmz @allhiphopcom @vladtv @ballerstatus @thisis50 @vh1"