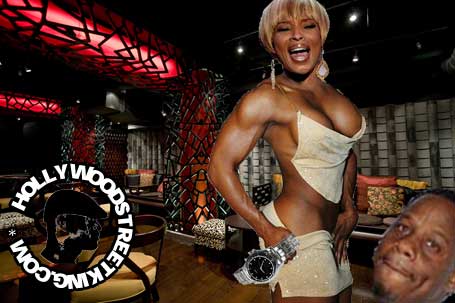 HSK has learned that Mary J Blige was involved in an altercation at a New York night club last night.
It happened at The Mansion night club. That's where a source who witnessed the incident tells HSK a person they thought to be Mary's brother, Bruce, entered the club with an entourage of females on his arm, before Mary J Blige became enraged and charged at him. Security removed him from VIP.
The noted "queen of hip-hop soul" is then said to have blown-up at her husband of six years, Kendu Issacs, throwing her drink on him before attempting to bite something off of his wrist. Kendu was later spotted running after Mary as she stormed out of the club. Perhaps related was that security and staff were looking for a watch that was lost in the melee.
Apparently, Mary J Blige was under the impression that the group of chicks were being brought up for her (SOON TO BE EX) husband. I ask now, is this how good BORN AGAIN Christians should be acting in public? If Mary wants to act like this why doesn't she just back with KC?
Don't you agree?
OTHER NEWS SOURCES ARE CLAIMIUNG EXCLUSIVE ON THIS STORY….. BUT KNOW THAT JACKY & HSK BROKE THIS FIRST!!
Members of the press ARE REQUIRED to credit HSK for this ORIGINAL REPORT