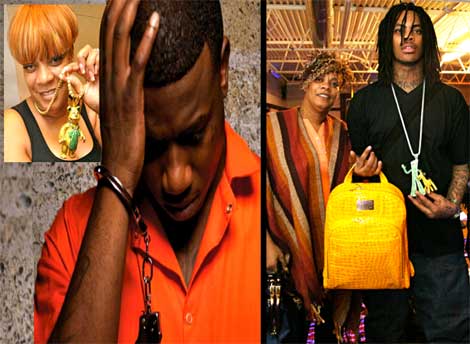 "…accusing them of fraud, racketeering, theft and breach of contract as it pertains to Davis' company."
The Ice Cream Man may be held up for the next four-months, but that's not stopping him from coming back to collect … with interest! That's because Radric 'Gucci Mane' Davis — who's about two-months into a six-month jail sentence for probation violations — has smacked a federal lawsuit on his former partners in music, Debra Antney; Juaquin 'Waka Flocka' Malphurs; DJ Xavier 'Zaytoven' Dotson; Khia Stone and Otis 'OJ.
"Defendants' misrepresentations and omissions were made with the intent that plaintiffs rely upon them," the lawsuit reads. The plaintiffs relied on the representations and would not have entrusted (the) defendants with their careers and livelihoods otherwise."
You'll recall … Back in 2009, Gucci Mane served a one-year sentence at Fulton County Jail for violating probation over his 2005 aggravated assault conviction. According to Gucci's recently filed complaint, that's when Antney and her alleged accomplices, "took control of the company [Brick Squad 1017, LLC]; stole a ring and necklace from Davis; failed to report tax information on her income; and seized control of his money and assets and used them for herself."
Here's what's being reported:
"The complaint says Antney, who manages her son's career and has her hands in the rise of several area hip hop artists, was hired to manage Davis in 2006 and was released from her duties in 2009.

The lawsuit claims that Antney took control of the company and along with Malphurs and Stone spawned at least three separate companies without Davis' consent and, for Malphurs, in direct violation of his artist's contract.

The lawsuit also accuses her of fraudulently inflating the costs of certain record label expenses and using the excess for personal gain.


The group withheld payments and royalties from Davis and Armour as well as records and information about the business of the company, the lawsuit alleges."
If Waka Flocka is forced to pay the piper, will he eat his own words claiming "I won't f*ck that ugly bitch [Oprah Winfrey]"? I don't know, what do you think?