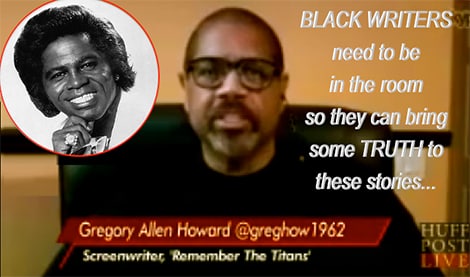 "Who's going to tell these stories — The children of the Civil Rights struggle – or – a bunch of strangers? That's really what this boils down to." -Gregory Allen Howard
One of Hollywood's very own leading Black screenwriters stands firmly behind his words. HSK recently published Gregory Allen Howard's essay "The Whitewashing of James Brown" — which exposes segregation behind Hollywood's movie surrounding the life of The Godfather of Soul, citing segregation between the film's all-white production team and its Black actors.
Howard — the brainchild behind the "Remembering The Titans" screenplay — has since spoken out for a second time, explaining why it's critical for Black writers to be the ones to tell the stories of our Black icons.
"This wall that's been going on — the discrimination of Black writers — goes back over 40-years. David Wolper just happened to be honest… the producer of "Roots" 40-years-ago… he said, "I'm not hiring Black writers because they're too close to the material." Yeah, he's right. I AM THE MATERIAL.. and I need to be at the table… I need to be in the room… and other Black writers need to be in the room… so they can bring some truth to these stories."
Peep what Gregory Allen Howard breaks it all down:
"James Brown was a Civil Rights icon. He meant so much to me and millions of other African Americans (then called 'Black' because of James, thank you).

This is not a specific criticism of this movie. I want to make that very clear. In tough times — and these are tough times in the business, let's be honest — people close ranks and help each other out, help their friends out. Well don't help your friends out with my Black icons. These icons meant something to me and millions of Black people and we need to be included in the storytelling. It's as simple as that.

Racism hasn't gone away, just because Barack Obama's sitting in the White House. Racism is alive and well. That hasn't taken away the racism that still exists in America. It's in the DNA of America, it's in the very fabric. But my thing is — and what I tried to do in The Titans is — the way to deal with it is to deal with it. Don't sweep it under the carpet, don't pretend it doesn't exist, deal with it honestly.

I also proved… I think, at least… that you can make a commercial movie that deals with race honestly. Don't take it out, deal with it upfront. I deal with it, of course. I'm on a different level and it's, frankly at my level, a little more subtle… but I see it.

This is not a plee for me to get work. There are other very qualified Black writers — two Academy Award-winners, multiple other Black writers with awards as well. And for them not to be involved in any of the King projects or any of these other icon movies — it's staggering to the imagination, this kind of discrimination against Black writers goes on even today… in otherwise "liberal" Hollywood."
Check out the Howard's entire interview: