Life After "American Pimp"…
HSK Exclusive – One "American Pimp" who was featured in the 1999 Hughes Brothers documentary of the same name — before being acknowledged by the likes of Snoop Dogg and Bishop Don Juan at L.A.'s annual Players Ball — seems to have had the book thrown at him…Without Merit.
Calvin 'Good Game' Winbush was sentenced to serve 14-years in prison for "conspiracy of transporting a minor across state lines," back on August 10th 2012. The problem is, evidence proves the minor at the center of the case didn't only lie to 'Good Game' about her age, she also provided the Ohio native with identification stating she was 21-years-old at the time of the reported incident.
Here's an ad 'Chevy' posted, we're told prior to her meeting Good Game: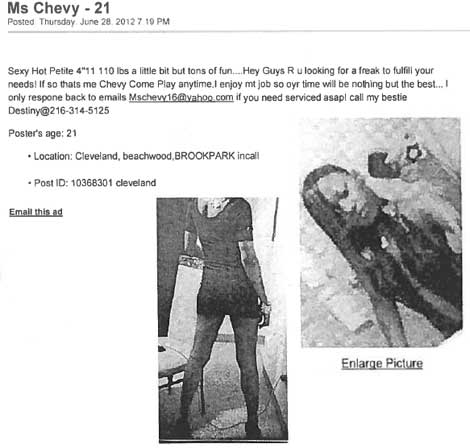 Here's what "Chevy" testified before the court:
Lawyer: "The first time you met him was when you were in Chicago at a ball, is that correct?"
Chevy: "Yes."
Lawyer: "Now, at the ball you were conversing with another young lady who recommended my client, is that correct?"
Chevy: "Yes."
[We're told the 'young woman' the questioning attorney is referring to was Good Game's bottom chic, 'Seashell' — who's reported to be responsible for bringing a '21-year-old Chevy' to the table.]
Lawyer: "Now, was there at any time any coercion on his behalf to make you call him?"
Chevy: "No."
Lawyer: "In fact, it was you voluntarily calling him, is that correct?"
Chevy: "Yes."
Lawyer: "You wanted to call because you wanted a better life, is that correct?"
Chevy: "Yes."
Lawyer: "Did he ever strike you, ma'am, or force you to do anything you did not want to do?"
Chevy: "He didn't force me to do anything. No."
Lawyer: "And so any representation you make to this Court today with regard to any illegal activities, specifically prostitution, is you voluntarily engaged in it, is that correct?"
Chevy: "Yes."
With seven of his own prostitutes to deal with, we're told Good Game really only spoke to 'Chevy' once — when he spoke with her over the telephone, wishing her happy birthday. Sources say Good Game didn't have sexual relations with Chevy, let alone profit from her. That's before insiders tell us cops busted into Seashell's hotel room on January 2nd 2012, over complaints of marijuana smoke coming from the room, when they discovered Chevy alone in the room. We're told that when Chevy told the cops she was a minor rolling with a pimp known as 'Good Game'.
Here's the drop:
"When Chevy showed a picture of Good Game with Snoop Dogg to the cops
at the Players Ball in Los Angeles it was a wrap. The FBI got Seashell to roll on Good Game. When the FBI played Good Game's DVD's in the courtroom it was over. Good Game's DVD's got him 14 years.

Chevy told the court Good Game never was her pimp, but the judge didn't care. The judge and the FED's wanted Good Game. The DA said 'Good Game never paid taxes and he's on DVD's showing off all the stuff women bought him.' They wanted Good Game to snitch on other pimps, but he hasn't said a word in court or to anybody who wanted to do a interview with him from jail."