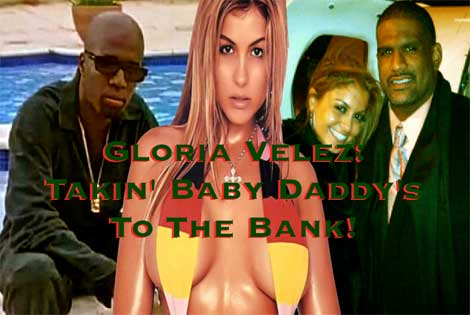 Baby Momma Declares War!
HSK Exclusive – What does footballer David Bowens now have in common with Aaron Hall? Baby momma drama … with the same Mamma!
We're talking about former video vixen Gloria Velez, who most recently became the mother of David Bowens' [Miami Dolphins] now 18-month-old son, Caryden.
You'll recall the 34-year-old Boriqua bombshell's first child was fathered by singer Aaron Hall … making Velez his fourth baby momma. Now, we're told since Velez raised Aaron Hall's son for the past 14-years without seeing a dime … and her recent cheating bust on Bowens with female Facebook fans … she's said to be looking to kill two birds with one stone.
"Gloria is seeking $100K in delinquent child support from her deadbeat baby daddy Aaron Hall, and immediate child support from David Bowens."
Here's the drop:
"David was cheating on Gloria, while she was pregnant, with females he picked-up from Facebook. They had been living together for three-years before when split. She's gettin' ready to cash in on what she knows about both baby daddy's in a tell-all book."