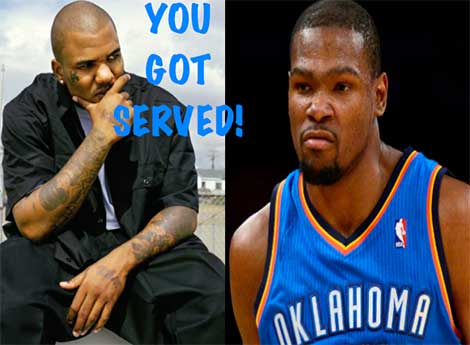 "How am I lying ???? Just say you a sore loser & you ain't wanna help the kids…." -Game
Game has just checked Kevin Durant for a second time in one-week. It appears to be a case of He Said, He Said. Know why? One of the men isn't telling the truth. Just ask Drake.
Last week… Game took to IG posting a video with a caption claiming he did Durant in on the court, getting a three-pointer in. The video has since been deleted from Game's account. But Game still stands firmly behind a $20K bet allegedly made between himself and Durant… with the winning monies specifically to benefit Game's charity…
The bet was for Kevin to donate $20k to Game's charity basketball league, The Southern California Frogg All Stars, but when asked about the bet called Game a liar.
Game responded with an IG post, stating this today:
"Now why [Kevin Durant] frontin on the kids homie ?!?!?!? We clearly said….. "If I made the 3 from NBA range you'd supply the entire @froggallstars program with brand new Kevin Durant shoes"…… 120 kids, close to $200 a shoe equals about $20,000."
He continued, " How am I lying ???? Just say you a sore loser & you ain't wanna help the kids…. It ain't that they need it cause I bought all 120 kids Lebrons out my own pocket as you can see on their Instagram.. But I thought it would be kool for them to meet you & be able to ball in your shoes especially since they look up to you & I made the shot as WE AGREED."
Game says Drake was on hand to witness the bet — so was James Harden and DeMar DeRozan … and he has VIDEO of the shot. "But don't sweat it champ," Game adds … "we'll still support you & I'll go buy them myself just cause they mean that much to me….. 1 love – The Game."