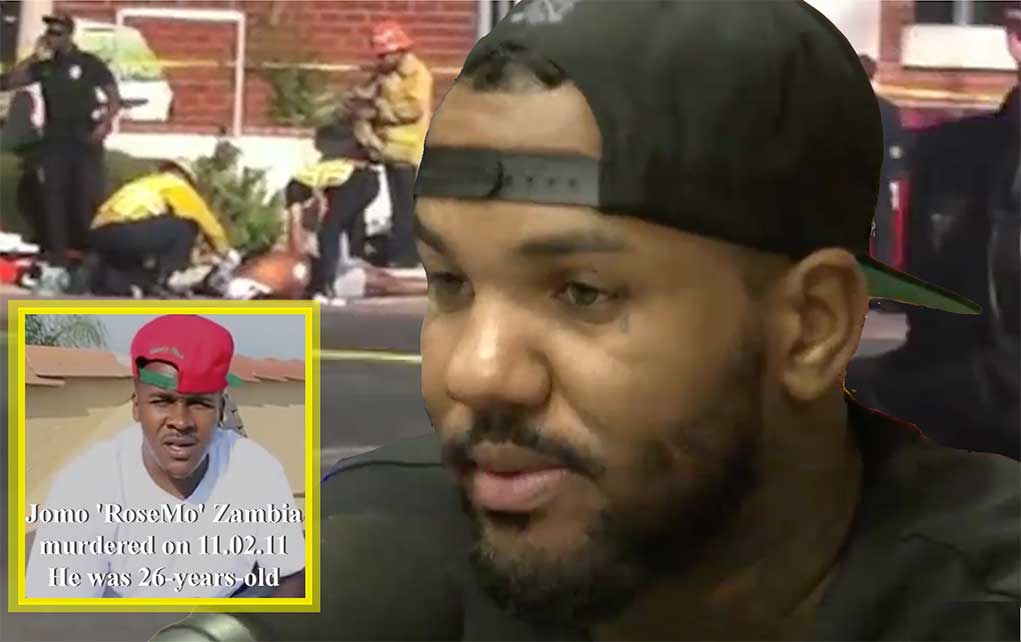 "Don't expect me to feel bad for a guy that passed away, when he was alive, threatening me and my kids and my family and my well being cause I don't care." -GAME
Tense moments at The Breakfast Club after GAME came with a shocking statement, causing silence in the studio, jaws to drop, and left listeners asking, 'What'd Game just say?' Just ask Charlemagne Tha God, who led a live interview with GAME. The discussions took a turn for the worst when Charlemagne reminded GAME about the time he was knocked out at Fox Hills Mall.
"That dude is dead, by the way. Um, so it is what it is man. You know, whatever man." ~GAME
Here's how it went down:
CHARLAMAGNE THA GOD: "On social media all the time, when other people get into it with you they always say something about you in the mall, and you got into a fight with some dude, and he got the best of you."
GAME: "I don't nothin' about that fight … the dude … you know what's crazy is this, like … the fight in the mall, it never happened. Like, I seen these dudes in the mall. I was with my kid. They said something, I said something, and I went my separate ways. And everybody sayin' Game got beat up in the mall and all that …
CHARLAMAGNE THA GOD: "Like knocked unconscious?"
GAME: "Yeah … and that dude is dead, by the way. Um, so it is what it is man. You know, whatever man."
CHARLAMAGNE THA GOD: (in response to an off-camera 'The Breakfast Club' producer): "Oh, he got killed four-days later?"
GAME: "I'm saying."
ANGELA YEE: "Is it difficult when people approach you when you're with your kids, even just as fans?
GAME: "If you approach me with my kids … then 40-days
JUST HOURS AFTER HIS SPOT ON THE BREAKFAST CLUB, GAME CAME TO THE TABLE OFFERING UP APPARENT EXPLANATIONS FOR NOTING, "THAT DUDE IS DEAD" …
HERE'S HOW GAME BROKE IT ALL DOWN TO A "JOKING" MATTER:
"I never said, on my behalf , so let's not twist my words the way the media likes to do. What I did say was, in the 40-days after the dude jumped me he passed away; he did die within that timeline.
The 40-day reference was from a video that they had on YouTube saying they was gonna have me killed in 40-days. And I thought that it was ironic that not even in that time that dude had passed away. And so it is what it is.
And when I said it on The Breakfast Club it was the morning time … morning show … we was basically joking and what not.
Those who might not think it's funny or that it's not something to joke about … I don't have really any type of feelings — good or bad — for a guy that was threatening my life and the lives of my kids.
I don't feel bad. I said it how I said it. So people can take it how they wanna take it and whatever … "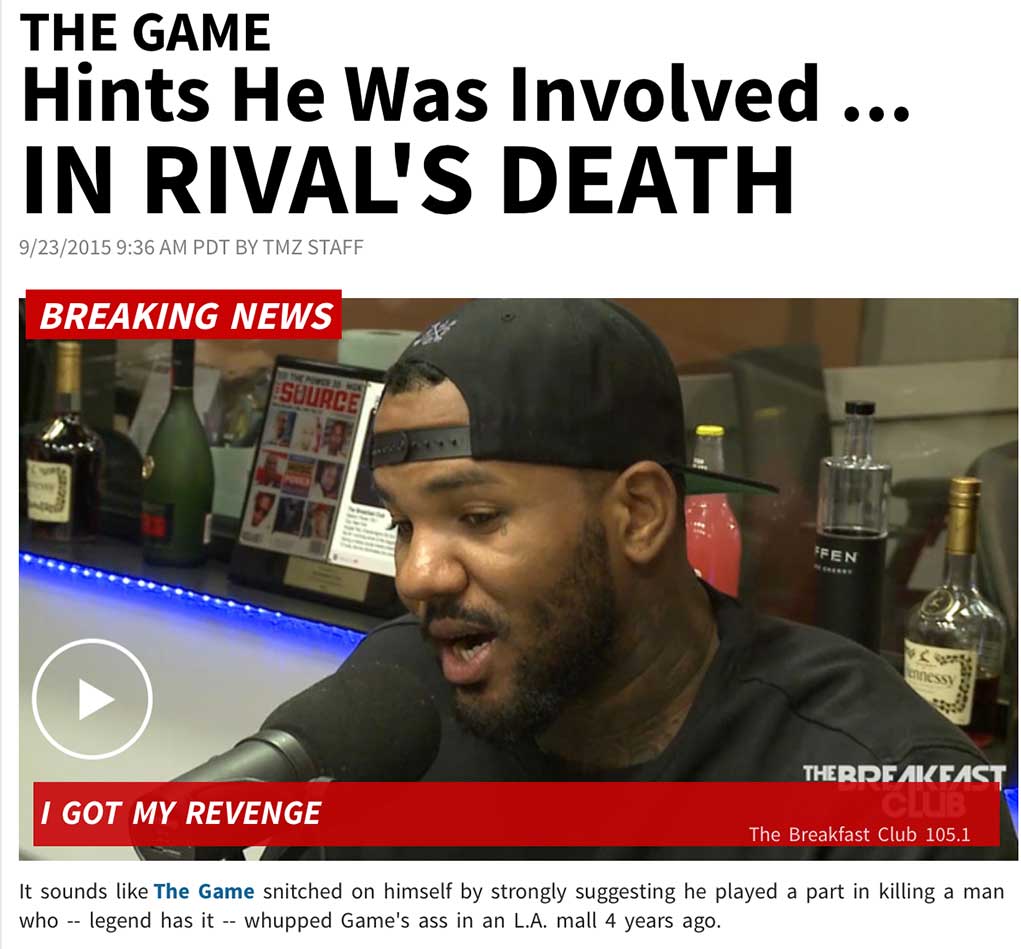 BACKGROUND INFO:
All leads, details and news achieves seem to point to RoseMo 700 as 'dead dude' GAME mentioned on The Breakfast Club, this morning. RoseMo, real name Jomo Adoula Zambia, was killed during drive-by shooting in broad daylight on the after of November 3, 2011. He was 26-years-old. The incident came just weeks after delivered GAME with a knockout punch at Fox Hills Mall; the "fight that never happened" acknowledged by GAME today, denied by GAME yesterday…
"That nicca went on the internet saying, 'How I just got knocked out when I just landed?' Well dat nicca plane landed in the Fox Hills Mall …" ~RoseMo 700
You'll recall RoseMo for being dat blood to drop a play-by-play of the GAME sent down with "a smokin' Joe Frazier left hook. "I ain't gonna lie, the nicca [GAME] turnt it up," RoseMo said."So I had to turn him [GAME] down a notch." It's now clear today that GAME — real name, Jayceon Terrell Taylor — seems to be the instigating factor behind the beefs. Just ask Ice Burgandy, who — during a 2012 interview — didn't mention a word about RoseMo shooting death, but came with a tone that seemed to tell different …
"Where I'm from, beef is when somebody dies. Ain't nobody die so there's really no beef like that between me and him." ~Ice Burgandy
Apparently, The Game was there with his son and the dude JoeMo (@rosemo700) was seemingly respectful of the fact that Game had his son with him. But, as lore would say, The Game was like we can fight anyway, with or without my kids here. Then, whatever happened, happened."
"RoseMo700's killing could of be in retaliation to his assault on The Game as it's understood in the Hip Hop community in LA , that The Game and his crew couldn't and wouldn't have been seen to be taking such a dishonour and letting it go."
From a 2011 report:
"Back in mid-September, RoseMo made headlines across hip-hop blogs when he and Brick Squad recording artist Ice Burgandy detailed an alleged run-in with L.A. rap star The Game, which they claimed ended with Game being knocked out at a Los Angeles shopping mall. Then, days before his tragic death, RoseMo surfaced on blogs again, in a clip where he is seen fighting local rapper Boskoe1 while his friend, CTE rapper 2Eleven, films and comments about it.
Both altercations stemmed from arguments that began on Twitter, involving RoseMo's childhood friend Ice Burgundy, an L.A. rapper affiliated with Waka's Brick Squad label.
So while Boskoe's Twitter beef looks the likely candidate, there are whisperings that RoseMo700's killing could of be in retaliation to his assault on The Game as it's understood in the Hip Hop community in LA , that The Game and his crew couldn't and wouldn't have been seen to be taking such a dishonour and letting it go. Lead homicide Detective Gabriel de La Torre stated that the LAPD are "looking into the all recent Twitter activity related with this killing". To this day the killer is still unknown…
Police told the Times that The Game is not a suspect in the case. "Our investigation is leading us in a different direction," Police Detective Gabriel De La Torre said."