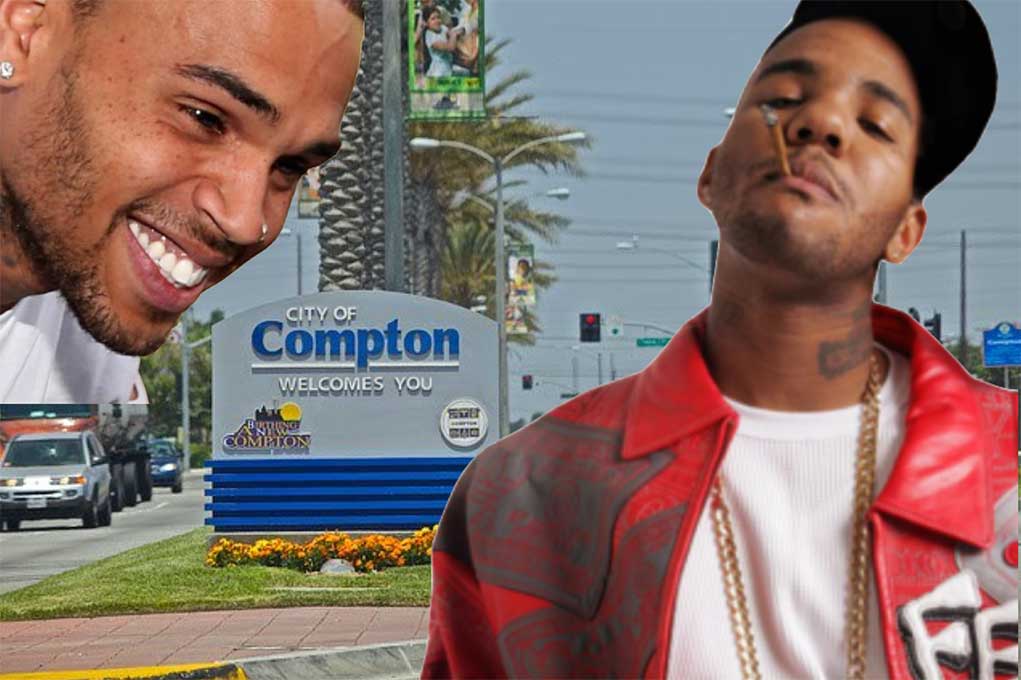 The streets of Hub City are spilling word painting Game a default player, who's reported to not be following the rules. They say it's all because over recent weeks Game has taken up singin'. Just ask Wackstar. According to our sources, Game's latest rant at Chris Brown's homey displays a continual pattern of playin' insta-gansta for pub.
"I don't want violence with Game cause I have love for him. He's been mad at me ever since I gave Chris Brown the Compton hood pass."
You'll recall Game recently said it was Wankster who allegedly pulled a B and E at Breezy's family crib. Wankster denies doing anything of the sort. In fact, he says JT was heated over the hood pass he left Breezy with. Game has since taken troll-jock'in Karreuche — apparently leading Breezy to clown dude with ease and playeristic grace …
Peep Breezy's Game:
"Someone must have something they need to promote," he wrote, incorporating several *laughing crying* emojis. "It's sad people need gimmicks to maintain fame. All pub is good pub I guess."
Alerted to Breezy's affront, The Game fired back.
"Keep throwing subliminals nigga. We both know it's ME vs. YOU who gone come out on top punk…I still owe you one for that shit you pulled…We both know yo time coming blood."
The Game and Chris Brown have shared an amicable relationship to this point and collaborated on Game's "Fuck Yo Feelings" off his 2014 album Blood Moon: Year Of The Wolf. At this point, former Brown affiliate Wackstar eagerly entered the fray, chirping at Game about Blood Moon's mediocre sales. "You doin' all the shit for album sales but by the looks of your last album," he wrote. "Looks like you should try a lil harder."
The Game then came for Wack with a vengeance. "Tell these fans who really had Chris Brown auntie tied up & his house broke into you p*ssy ass faggot… When I see you I'm gone break yo f*ckin' jaw. So have yo gun on you p*ssy."
"Tell these fans who really had Chris Brown auntie tied up & his house broke into you p*ssy ass faggot… When I see you I'm gone break yo f*ckin' jaw. So have yo gun on you p*ssy."
Here's what Wackstar's homey revealed:
"I am tired of seeing everyone trying to bash Wackstar because of his relationship with Chris Brown! I am very close to him and The Game, I've known them for 11 years and I can tell you first hand what the real deal is! The Game is a liar…period! These two grew up together and he's been mad for years that Wack doesn't hang with him anymore because he's a shady individual. Game is bitter because him and Wack used to be best friends and once Wack started hanging with Chris he got jealous. This guy would always have this on and off beef with Chris for no reason then turnsaround and call him his lil bro. SMH!! The Game doesn't care about anyone but himself and his kids..that's it! For him to go out and say Wackstar robbed Chris Brown is defamation and best believe lawyers will be involved! Wack and Chris are still close, the only reason he hasn't been around the first half of the tour is because his mom has cancer. Chris knows Wack didn't rob him. They wouldn't still be friends if that's the case and he was right with CB when everything went down. Chris doesn't even give him money, Game has surely never given him any money so Wack is definitely not a leech."