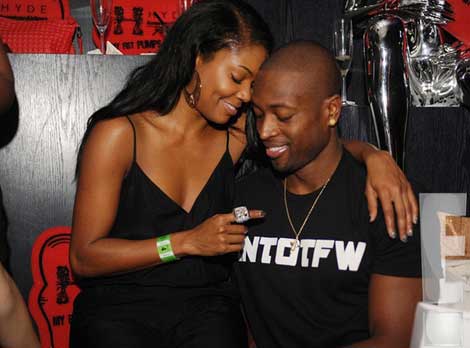 Gabrielle Union is making dang sure no other home wrecker gets dibs on her NBA moula. The B-rated actress says she's pulling out all the stops — including working her 'Being Mary Jane' schedule around working Dwayne Wade.
"If your relationship isn't something you're willing to give up … you can compromise."
During a recent interview, the soon-to-be bonafide basketball wife revealed she's keeping a close eye on her NBA All-Star to ensure she's the only home wrecker in Wade's house.
Here's what Gabrielle Union told Glamour Magazine:
"When you're debating whether to go backward or forward, you have to look at the original issue. [When Dwyane and I broke up briefly in 2013], it was because of distance and scheduling. I finished filming the show, then I flew to Vegas right away to start shooting Think Like a Man Too. I couldn't take time off, and I missed some quality togetherness we desperately needed. Over the summer, I reassessed priorities. I'd always wanted an awesome career with back-to-back projects, but I realized I wasn't willing to sacrifice my relationship for it. Moving forward, I decided my work schedule has to make sense for our family. Bottom line: If an issue's a deal breaker, it's a deal breaker."
After D-Wade got another woman preggers, did Gabrielle turn the other cheek and stick with dude? Of course! Ask Aja Metoyer.
http://youtu.be/Xva05DmRiv0