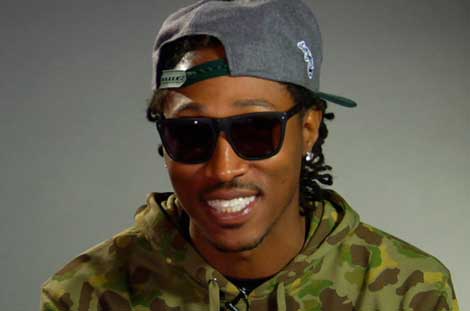 "Sunday night in L.A., they almost got him at Greystone nightclub."
Running Rapper?
HSK Exclusive – We're getting word of Future being in debt with "The Crips" street gang. Sources say that's why the "Karate Chop" lyricist ran out of Atlanta's Reign nightclub, just two weeks ago, after a gang of Crips showed up at the spot.
This isn't the first time we're told Future was forced to bail from a venue. Back in March, the rapper reportedly touched down in Detroit before abruptly canceling his Pontiac nightclub performance and jumping back on his tour bus to bounce. That's after we're told Future learned Crips were waiting at his hotel for his arrival.
It's a situation reported to have left a Detroit concert promoter pissed. Know why? Because dude lost his deposit and promotion money.
Here's the drop:
"Sunday night in L.A., they almost got him at Greystone night club. The Crips ended up beating up dude's security 'Rasco,' and the club helped Future to escape.

Future has to pay his hood taxes and he doesn't want to. He can't go to Chicago because they're looking for him out there too."