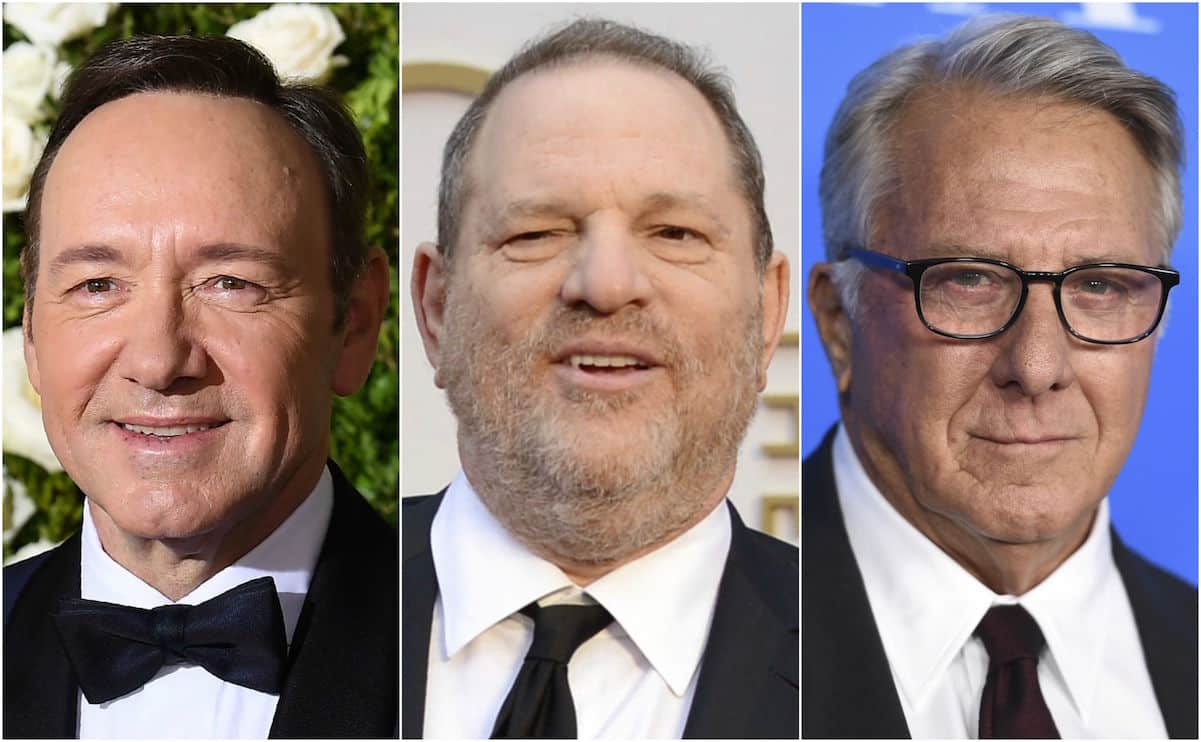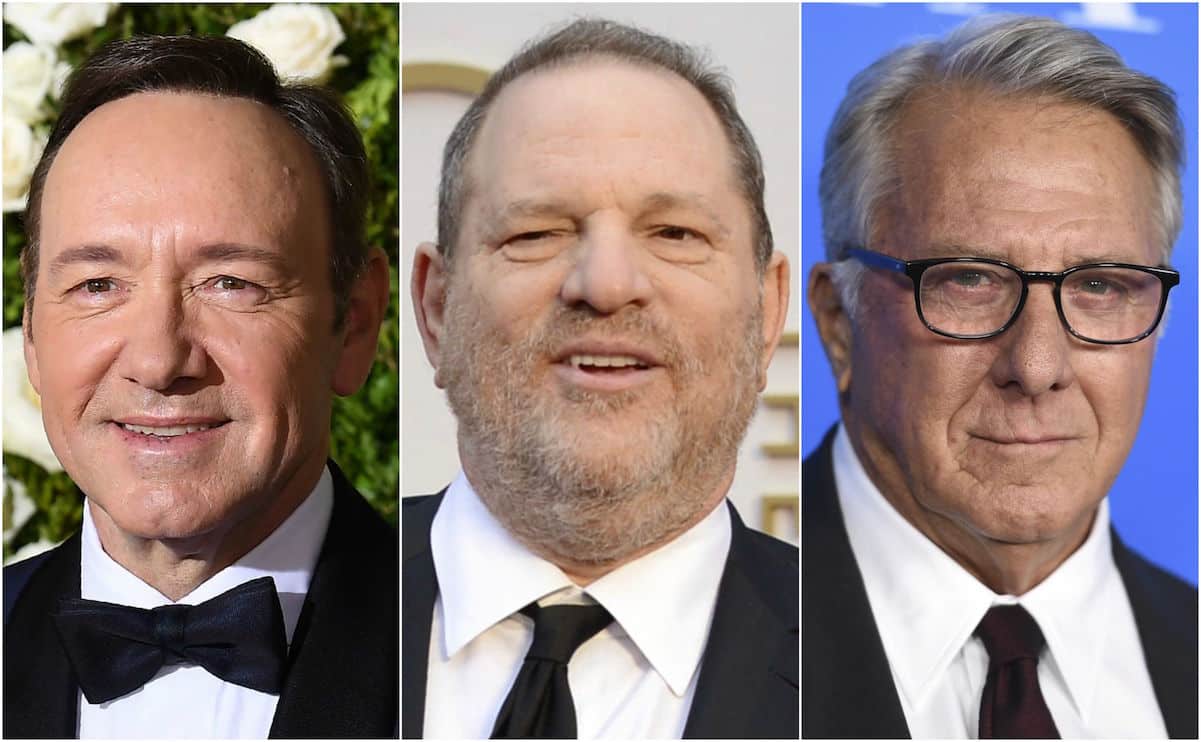 Now that Harvey Weinstein has been exposed for sexually harassing or assaulting over 50 women in the entertainment industry, including Gwyneth Paltrow, Angelina Jolie, and Lupita Nyong'o, other alleged victims are finding the strength to expose various powerful men of sexual misconduct in the wake of the scandal.
Here are a few of the sexual predators who've been EXPOSED in not only Hollywood, but in politics and the publishing industry, too!
James Toback – Multiple women have accused him of luring them into hotel rooms, trailers, and other places for interviews and auditions. The meetings would quickly turn sexual in nature. Toback denies the claims and says his diabetes and heart condition make it impossible for him to take part in that kind of behavior.
Knight Landesman – The Artforum publisher and a power broker has been accused of sexual harassment by nine women. They have filed a joint lawsuit against him, and he has since resigned from Artforum.
Chris Savino – The Nickelodeon exec was fired after a dozen women exposed his sexual harassment and inappropriate behavior.
Hamilton Fish V – The publisher of The New Republic took a leave of absence after multiple female employees accused him of sexual harassment.
Tyler Grasham – The Hollywood agent eas exposed when he was accused of sexual assault and sodomy by actor Tyler Cornell. With an open police investigation pending, Grasham was fired by his agency.
Ben Affleck – After condemning Weinstein, video resurfaced of Affleck grabbing former MTV host Hilarie Burton's breast during a taping of TRL back in 2003. He has since apologized for his actions.
Bryan Singer – The director has previous sexual assault allegations involving teenaged boys on his rap sheet. In 2014, an actor named Michael Egan III filed a lawsuit alleging Singer drugged him and forced him to have sex at various parties in Encino and Hawaii when he was just 15-years-old. Another alleged victim said he was 14 when Singer asked him to shower in the nude for a film. Another alleged victim described Singer's misconduct in a series of tweets. Singer allegedly groped the man's butt and placed his finger down his pants. The tweets have since been deleted.
David Guillod – The Hollywood producer was accused by actress Jessica Barth for sexual assault. She told her story in 2012, but Guillod threatened to sue. Now, she's tired of keeping quiet and she's ready to press charges against him.
Oliver Stone – Stone was one of the few to express remorse for Weinstein. He later condemned the Hollywood producer right before he was outed by his alleged victims. Model Carrie Stevens said Stone honked her boob like a horn at a party. And actress Patricia Arquette said a weird meeting with Stone led to him sending flowers to her home. She called his behavior strange and eventually severed ties with him.
Roy Price – The head of Amazon Studios quit five days after being put on leave for sexual harassment that stemmed from a 2015 incident at Comic-Con.
Twiggy Ramirez a/k/a Jeordie White – The bassist from Marilyn Manson was accused of rape and fired from the band.
Jon Grissom – Corey Feldman outed Grissom as the person who abused him when he was 13 or 14-years-old. Grissom denied the claims.
Ethan Kath – The Crystal Castles frontman was accused by ex-bandmate Alice Glass for grooming her at the age of 15 when he was 10 years older. Glass said he would give her drugs and alcohol, have sex with her without her consent, and physically abuse her. She quit their electronic band in 2014 just to get away from him.
Mark Halperin – The political analyst lost his NBC News contract, an HBO program, and an upcoming book deal after five women accused him of harassment. Halperin reportedly grabbed their privates, pressed his groin up against them, and would kiss them without their consent. He apologized and said he realized how inappropriate his behavior was.
Leon Wieseltier – The former editor at The New Republic admitted to "some offenses" after several female colleagues accused him of sexual harassment. Funding for his new magazine has been pulled after the accusations went public.
Robert Scoble – The founder of the augmented reality firm, Transformation Group, was accused of groping a woman at a tech conference and grabbing another woman's breast and butt during a tech camp retreat. He resigned from his firm, but said he didn't consider his actions as sexual harassment because he didn't have the power to make or break any of his alleged victims' careers.
John Besh – The celebrity chef resigned from his company after a dozen current and former female employees accused him of sexual harassment. The accusations ranged from inappropriate touching to inappropriate comments.
Brett Ratner – The Hollywood producer was accused by six different women, including Natasha Henstridge and Olivia Munn. Munn said she was asked to deliver food to Ratner's trailer on set. When she entered, he was fully exposed with a shrimp cocktail in one hand and pleasuring himself with the other. Before she could realize what was going on, he ejaculated right in front of her.
Lockhart Steele – The editorial director for Vox Media was fired after he admitted to engaging in inappropriate conduct. One woman, Eden Rohatensky, was fired by the company after speaking out about her incident the Steele. Vox has hired an investigator to now look into Steele's actions.
Andy Signore – The creator of Screen Junkies has been accused of sexual harassment by at least five women. He has since been fired by Defy Media.
Bob Weinstein – Harvey Weinstein's brother has been accused of sexual harassment by Amanda Segel, an executive producer of The Weinstein Company.
Andy Dick – The actor was fired from an independent film in October 2017 after he was accused of making lewd comments, groping, and licking people's faces on set. He said he didn't realize it was harassment, he considered it flirting.
Michael Oreskes – The NPR news chief was asked to resign after three women accused him of sexual harassment. Oreskes would approach them during meetings and shove his tongue down their throats. Another woman said a business meeting to discuss her career with Oreskes quickly turned personal after he started asking her private questions.
Jeremy Piven – The Entourage actor has been accused by two women. Ariane Bellamar said he grabbed her butt and groped her chest in her trailer. Another actress, Cassidy Freeman who played the character Tess Mercer on Smallville, said Piven did something bad to her when she was "far too young." CBS is now investigating the claims.
Matt Mondanile – The former guitarist of the band Real Estate has been accused by several women for sexual misconduct. He has denied the allegations.
Andrew Kramer – An executive at Lionsgate executive was dropped when a former assistant accused him of sexual harassment.
Kevin Spacey – The actor came out as gay after actor Anthony Rapp said Spacey tried to sexually assault him when he was 14-years-old. Those on the set of the show House of Cards say Spacey made the work environment toxic, and there was a pattern of sexual harassment. Eight people who worked on the set said the actor sexually harassed or assaulted them, and at least 15 people have accused him of sexual misconduct.
Adam Venit – The WME agent was placed on leave after actor Terry Crews accused him of groping him at a Hollywood event. Venit apologized to Crews after the incident took place, and Crews kept the entire incident a secret for years so he wouldn't be ostracized in the industry.
Ed Westwick – The actor who played Chuck Bass on Gossip Girl was accused of sexually assaulting an actress named Kristina Cohen. Cohen said her former boyfriend took her to Westwick's apartment. Westwick said, "We should all f**k." Cohen was uncomfortable and wasn't feeling well so she went to take a nap in a guest room. That's when Westwick allegedly followed her into the room and assaulted her. Her then-boyfriend told her not to report the incident as it could ruin her career. The allegations were posted to Buzzfeed and later removed from their site, but the LAPD has now opened an investigation into the assault that allegedly took place in 2014. Westick denies knowing Cohen and says he has never forced himself on anyone.
Reverend Jesse Jackson – A journalist named Danielle Young said Rev. Jesse Jackson reached out and grabbed her thigh while saying, 'I like all of that right there!' and gave her thigh a tight squeeze.
John Singleton – Journalist Danielle Young also said Singleton grabbed her by the wrist, drew her near, and said, "Bring that juiciness over here" after an on-camera interview at a black film festival.
Sylvester Stallone – A police report from the '80s alleged the actor and his now-deceased bodyguard intimidated a 16-year-old girl to have sex with them at a Las Vegas hotel. The girl decided not to press charges at the time.
Richard Dreyfuss – The actor was accused of exposing himself to a writer and harassed her for years back in the '80s.
Jeffrey Tambor – The actor has been accused of sexual misconduct by two people, including transgender actress Trace Lysette.
Roy Moore – The Republican politician has been accused of making sexual advances towards teenagers back when he was in his 30s. Later, reports stated he had been banned from an Alabama mall for predatory behavior.
Louis C.K. – The comedian admitted to pleasuring himself in front of multiple women without their consent.
Al Franken – Two women accused the Minnesota senator and comedian of inappropriately touching. The founder of the Huffington Post, Ariana Huffington, also accused him of grabbing her chest and butt during a 2000 photoshoot.
Russell Simmons – A model claimed Simmons forced himself on her when she was 17.
Glenn Thrush – The political reporter for TheNY Times has been accused by several young women for inappropriate behavior. The NY Times has since suspended him.
George Takei – A former model said Takei groped her at his L.A. condominium.
Charlie Rose – The famous TV journalist was accused by multiple women for sexual harassment and lewd phone calls. CBS terminated his contact and PBS canceled his show.
John Conyers – It was revealed that the Michigan Democratic congressman settled a complaint in 2015 after a woman accused him of firing her after he rejected his sexual advances. A second woman also accused him of sexual harassment in 2017.
John Lasseter – Disney/Pixar's chief creative officer was outed for having a history of alleged sexual misconduct. He admitted he made "missteps" and took a six-month leave of absence.
Andrew Kreisberg – The executive producer was accused by 15 women and four men of misconduct.
Nick Carter – The former Backstreet Boy singer was accused of raping former teen pop star, Melissa Schuman. He denied the allegations.
Steven Seagal – Two women accused the actor of rape. He denied the allegations.
Stephen Blackwell – The Billboard magazine executive was accused of sexual harassment by one woman. He later resigned from the magazine.
Gary Goddard – The director was accused of sexually molesting a boy when he was 12. He denies the allegations.
Dustin Hoffman – A woman says she was 17 when the actor sexually harassed her. He later apologized for his behavior.
 Tom Sizemore – The actor was accused of groping an 11-year-old actress in 2003. Utah prosecutors declined to file charges, and he denied the allegation.
Matthew Weiner – The "Mad Men" creator was accused by one woman of sexual harassment.
Jeff Hoover – The Kentucky House Speaker stepped down after news revealed he had settled a sexual harassment claim from a GOP caucus staffer.
Larry Nassar – The Team USA doctor was accused of sexually abusing gymnasts Aly Raisman and her teammate Gabby Douglas.
Matt Lauer – The NBC Today co-anchor was fired after a colleague accused him of sexual harassment and sexual misconduct.
Morgan FreemanEight women, including a production assistant and a production staff member accused Morgan Freeman of sexually harassing them and making comments about their bodies on set of various films, including "Now You See Me."
Let us know if we missed anyone. Let's air out all these dirty MF'ers!