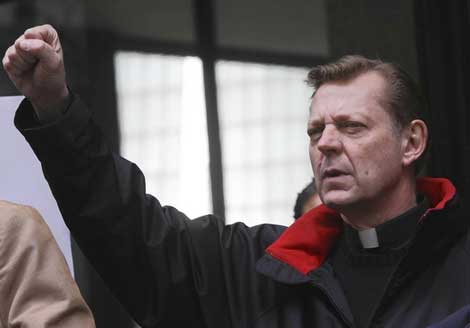 State of The Union from 79th Street
Father Michael Pfleger has proven himself to be a man who stands firmly behind the Struggle — more so than the living-likes of Al Sharpton. Know why? Father Pfleger's cause is one that's NOT led by American Greed! On the contrary, the Good Father continues to raise monies for our impoverished Black communities. Don't believe me.. Ask Dr. Boyce Watkins.
"Discipleship will cost. Are you willing?" ~Fr. Pfleger
That's a question which could be asked of our very own Black President. Maybe that's why — just hours before President Obama was set to deliver his 5th State Of The Union address, promising "to shrink the gap between the rich and the poor" — Father Pfleger took to social media to make his own address.
Here's what Father Pfleger had to say:
"State of The Union from 79th Street: Thousands of Children in Public Schools Homeless, Poverty continuing to Soar, Unemployment nearly 30% while unemployment Benefits are being cut off by Congress, People living under Viaducts and Abandoned Buildings, Young Brothers who can't find jobs or afford tuition are constantly Demonized, Sun Times today says we are on Path to Lock up more and more Youth, Racism and Prejudice continue to raise their ugly head ( Duck Dynasty, Ted Nugent ) I don't want to jump to conclusions, but I'd say from my window THINGS DON'T LOOK TO GOOD!!!!"
Did Father Pfleger previously blast the music industry for its negativity, and disrespect of women? Of course!
Don't believe me.. Just ask Snoop Dogg.