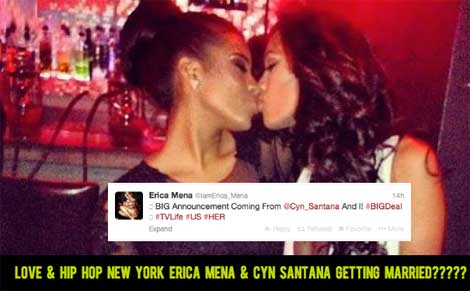 "Rumor is they are in the works of getting married and VH1 will be giving them a spin off called 'Erica & Cyn.'"
HSK Exclusive – A VH1 insider has checked in with HSK, revealing details that dispute the duo's claim that they're about to get married. This, just weeks after Erica and Cyn took to NYC radio airwaves announcing, 'We're not lesbians.' Don't believe me.. Ask HOT 97's Peter Rosenberg.
According to our tipster … the LHHNY ladies are 'leaking lies to the press' AND they're said to be 'pissing off Mona Scott Young' in the process.
Here's the drop:
"Cyn Santana isn't even signed to Love and Hip Hop New York. If Erica Mena, who is signed to the brand, does a reality show that's not under VH1's umbrella the network will sue."