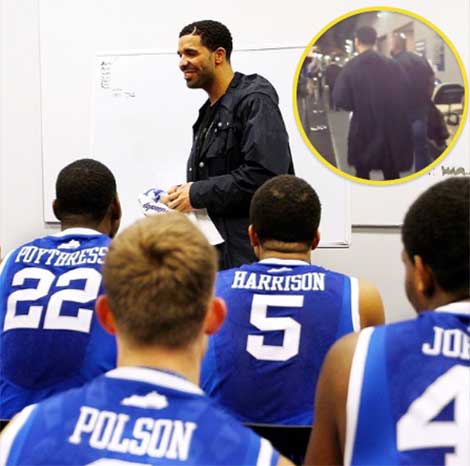 Weeknd Of Wooing Wildcats…
HSK Exclusive – Drake doesn't care what team he's ridin' for… he's in it for the Jocks!
We're told that's exactly why Degrassi boy was busy "giving away VIP tickets to his concert to college jocks," over the weekend. Just ask Johnny Manziel, who October's Very Own previously professed his "love" for.
HSK broke the story back in December 2013… uncovering Johnny Football's 21st-birthday [Dec. 6th] as the real reason why Drizzy pulled a no-show at the Grammys Nominations Live Concert. Now, a tipster tells us Mr. OVO was all up in the Wildcats' locker room "tryna bump a college jock."
Here's the drop:
"Drake's been getting at college athletes for the past year. Football players, basketball players.. it don't matter.. Drake's a sports groupie. He always goes to the games and after the games he heads straight for the locker room with his VIP tickets. What straight man does sh*t like that?"