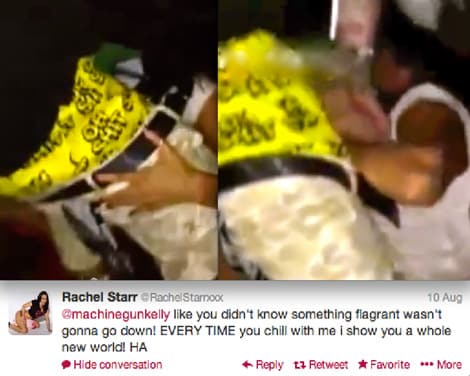 "I blame alcohol for one and @RachelStarrxxx for the other…" ~Machine Gun Kelly
Machine Gun Kelly is reported to have recently tested positive for Syphilis and Gonorrhea, but that didn't stop Rachel Starr from getting down on her knees to give the Bad Boy recording artist head … not only in plain view of a crowd at a Dallas nightclub, but without any evidence of a condom!!!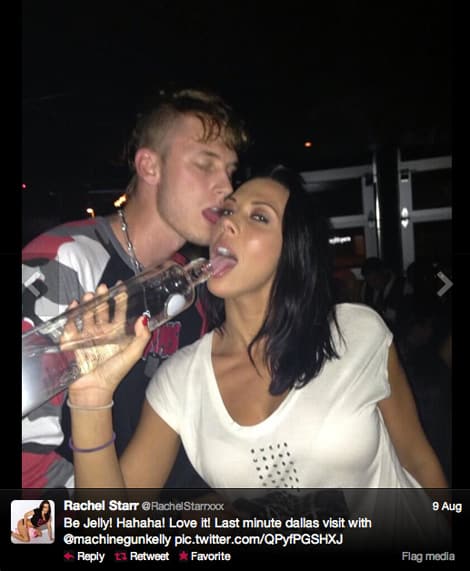 You'll recall HIV rumor recently prompted MGK to head to an Ohio Medical Clinic to prove that word wrong. But, though the rapper's reported to have tested negative for the AIDS virus, he didn't exactly get the all clear.
Now, sources say Rachel Starr should head to a doctor … pronto!!!
If you didn't already see the footage, here it is:
http://youtu.be/hSK2ANGSgCc
Here's RadarOnline.com previously reported:
"Rapper Machine Gun Kelly was performing in Dallas on Friday when his sometime girlfriend, adult actress Rachel Starr, pulled down his pants and performed oral sex on the him. MGK with his shorts unbuttoned, boxer shorts exposed, as Starr cavorted on him. The incident took place in full view of stunned fans who quickly pulled out their cell phones to capture the outrageous and steamy moment."