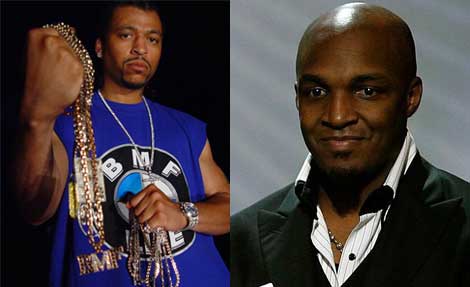 Swingin', Stealing and Snitchin'?
HSK Exclusive – Some sisters share clothing and makeup, but Kim Kardashian is said to have taken sharing with her siblings to a whole other level. That's because we're told Kimmy shared her first husband with Kourtney! Don't believe me.. Ask Khloe's ex-roomie Meagan Good.
We're talking about Damon Thomas, who's being outed as once using money he stole from BMF to cover the costs of Kimmy Cakes' under-the-knife full body makeover. Know how? An insider reveals Thomas' scam went down during the time he was producing music for BMF.
According to our source, Thomas wasn't only producing money to turn out Kim's image — he's also said to have used his profits to help pull Kimmy into a life of swinging with other Hollywood couples. Don't believe me.. Ask porn star Julian St. Jox.
Here's the drop on Thomas' snithcing on BMF member Terry Flenory, and Jacob "The Jeweler" Arabov:
"Damon Thomas took the stand back in 2007 and testified in a courtroom against BMF's co-leader Terry Flenory and Jacob 'The Jeweler' Arabov.
Because Damon Thomas stole money from BMF, it was safer for him to have BMF off the streets.

Terry and Jacob wanted Damon to tell the court he bought a million dollars worth of jewelry, but instead he snitched and said Terry bought the jewelry and BMF members used to bring garbage bags full of money to Jacob 'The Jeweler' Arabov' in Manhattan. That's the reason why Jacob went to prison for two-and-a-half years. Unlike Damon, Jacob never snitched on BMF's members."
Did Damon Thomas used to hold swinger parties in Justin Bieber's current home, where he lived before being evicted? Of course. Don't believe me.. Ask Nicole Murphy's ex-boyfriend Troy Stratos.