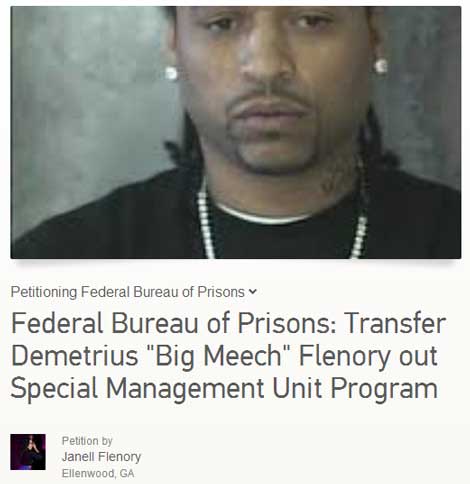 "Meech truly deserves to be able to have normal visits and communication with his family and friends. He should also be allowed to interact with other inmates instead of being kept in isolation." ~Janell Flenory
Janell Flenory Stands By Her Man
HSK Exclusive – He may be a first time offender, but Big Meech was served up with 30-years just the same. That's why the wife of the convicted drug felon is fighting to get some time shaved off of her husband's jail sentence.
Janell Flenory believes because Big Meech – whose real name is Demetrius Flenory – had no priors, he deserves a retrial. This while she's exposing the former prosecutor on Big Meech's case, Rand Csehy, who was charged for trafficking methamphetamine, ecstasy and two counts of possession of a firearm, back in May 2012.
Over the weekend, Demetrius "Big Meech" Flenory was transferred from Pennsylvania's Lewisburg Penitentiary to Colorado's Super Max Florence, Penitentiary.
Here's what Janell Flenory had to say:
"The Special Management Unit program is designed for the most violent and disruptive inmates in the Bureau of Prisons. Demetrius Flenory does not qualify for this program. He has not been convicted for any violent crimes, so this program is not intended for him.

Meech is only allowed 30-minute visits through the glass. He is also under 23/7 lock down. The facility that Meech is currently being transferred to in Florence, Colorado is considered the worst and most secure prison in the entire Bureau of Prisons. This is the same facility that Larry Hoover and the
9/11 terrorist attacker are currently being housed.

Please help us gather as many signatures and support that we can to help our cause become a reality! Meech truly deserves to be able to have normal visits and communication with his family and friends. He should also be allowed to interact with other inmates instead of being kept in isolation. Thank you very much for your support and please spread the word to many others!!! God Bless You!! Please keep Demetrius "Big Meech" Flenory and his family in your prayers."
https://www.change.org/petitions/federal-bureau-of-prisons-transfer-demetrius-big-meech-flenory-out-special-management-unit-program-2