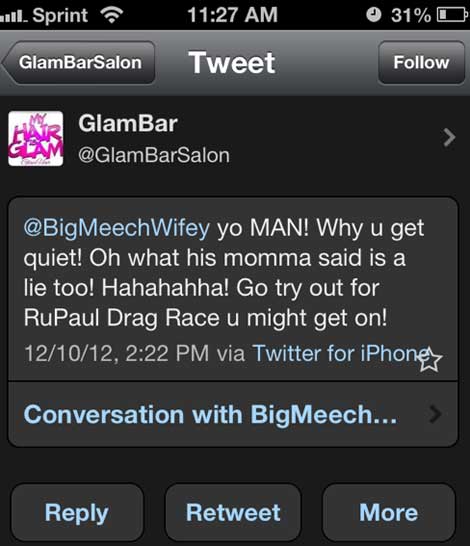 "You and I have never been in any type of relationship, so if you can't accept and respect what Janell and I have then "please" act like I'm Dead and LEAVE ME ALONE." ~Big Meech, to Sabrina Peterson
Sabrina Peterson Exposed Liar.. Just Ask K Michelle!
HSK Exclusive – MediaTakeOut would have you believe that Big Meech's "former girlfriend" is a local Atlanta hair salon owner. The problem is, not only does the BMF founder flat out deny those false allegations, he says he's been a one woman man since the day he met his fiance, Janell.
Now, it appears Sabrina Peterson is using the facade of being affiliated with Big Meech in order to boost her business.
This may not be the first time Sabrina Peterson has used celebrity names to her advantage. That's because K Michelle is denying Peterson's claim of being involved in a "lesbian relationship" with the "Love & Hip Hop Atlanta" reality star.
Here's what K Michelle had to say about Sabrina's allegations:
"If I was gay I would be banging out Taylor Swift. Tell MediaTakeOut to get off your dick wit the lesbian shit.

Remember, people R gonna judge come good or bad. You might as well make it JUICY and REALLY give'em something to talk about."
Here's what Big Meech penned to a "disrespectful" Sabrina, back on 7/19/12:
What's Crackin' Sabrina,

Look…I'm gone get straight to the point — You know good and damn well we have never been girlfriend and boyfriend or EVEN a couple..Period. So for you to disrespect my fiance Janell means you disrespect me!

I don't know what you are trying to gain besides stirring up controversy. We had sex one time ever back in November 2003 — we've never been on a date or vacation ever in life so you being my forever girlfriend must only be in your mind.

How can your consider yourself a friend of mines or say you have my best interest at hand, disrespecting my Fiance? I have nothing to do with your "Glambar" Salon or any other business that you and your dude, who you are pregnant with his baby, 4 Real — what does he have to say about this psychotic way you are acting?

I don't call or write you. I'm in SMU prison (Special Management Unit), 23-hours with no phone or e-mail till 2013. You and I have never been in any type of relationship, so if you can't accept and respect what Janell and I have then "please" act like I'm Dead and "LEAVE ME ALONE."

I don't need anything from you…love, friendship, money, or any help in any type of way. If you or my oldest daughter had my BEST INTEREST ya'll would've talk to my fiance like ya'll had sense. You know I don't entertain ignorance and what you're doing is very disrespectful and ignorant.

"Loyalty is not just a word, it's a Lifestyle" Death Before Dishonor, Last of a Dead Breed

Sincerely,
The Real Big Meech
Here's what's being reported:
"Two years ago, Janell began dating 'Big Meech,' (co-founder of the BMF) and lived a glamorous lifestyle until it imploded when he was sentenced to 30 years in prison for drug-trafficking and money laundering. Despite his conviction, Janell is standing by her man and plans to marry him when he is released in 2032."