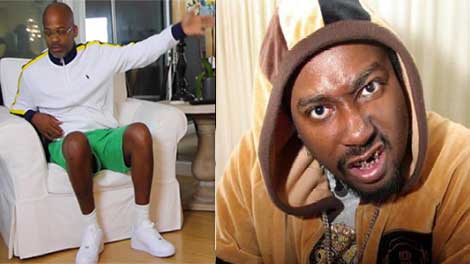 Months after YDB, son of the late Ol' Dirty Bastard, stated that he was looking for Dame Dash and wanted the Roc-A-Fella Records co-founder to return his father's masters, Dame has spoken out on the matter.
According to the rap entrepreneur, he does not have ODB's masters and has been in court with the late rapper's lawyer, Scott [Kessler] over the matter. He also accused Kessler of robbing ODB's family. Dame mentioned Kessler while discussing the numerous lawsuits he has filed against others, lawsuits he says the media never reports on.
"How many times is it ever in the newspaper that I'm fighting? It's never in the newspaper that I have a lawsuit against somebody…The world doesn't know about my lawsuits against Barry Klarberg for three years," Dame said during an interview with Hip Hop Motivations. "They don't know about that. And they don't know about how we're fighting Ol' Dirty Bastard's lawyer because he doesn't know what he's doing. And he got that kid thinking that I got his masters. Like it's retarded what Ol' Dirty Bastard's lawyer's doing…They wouldn't even let me in cause I was flipping on him so hard. Cause I was like 'Yo, why are you robbing that family? You know you robbing that family'…Scott [Kessler] is robbing Ol' Dirty Bastard's family."
Dame also took aim at former Hip Hop music attorney and radio host, Combat Jack. He says his issue with Combat Jack stems from the former lawyer allegedly filling out contracts incorrectly.
"But, you know, I remember why I stopped f*cking with him as a lawyer in the first place," he said. "It was cause he made the contracts where I was robbing Ski and everybody for they publishing. You know what I mean? I was like 'Yo, I said I'm not taking they publishing.' And I gave it back. And I did that. And that was what Combat Jack—That was my issue with Reggie Ossé. I was like 'Yo, you got me robbing kids.'"
In regards to his recent request to speak with music industry executive Lyor Cohen, who Dame says is molesting the culture, he says he has yet to hear from Cohen.
"Also, nobody's hollering at me still," Dame said. "Like I still don't hear no explanations. Lyor's not saying nothing. And I'mma keep on until you talk to me, Lyor. You have to explain yourself. It is what it is, man. I have questions. I wanna know and I don't want it to be emotional. I want it to be honest. I want people to witness it. I want to understand the things he's done and his perspective…I just don't agree with it. It's almost like if somebody molested some children regardless to what—they human. So, now that's the human race. You now disrespect the children. I'm not gon' just let it happen on my watch. And the way I look at it is Lyor has molested our culture."
During an interview with Vlad TV, which was published weeks ago, Dame spoke on the origins of his beef with Cohen and revealed that the record exec "ruined Roc-A-Fella."
"My beef was with Lyor cause I think he's a fake CEO," he said. "And I think he's fronting on my culture, but he can't front on anybody else. And I'm calling him out publicly. And I want him to stop trying to rape my culture… He's the one that ruined Roc-A-Fella. Lyor Cohen."