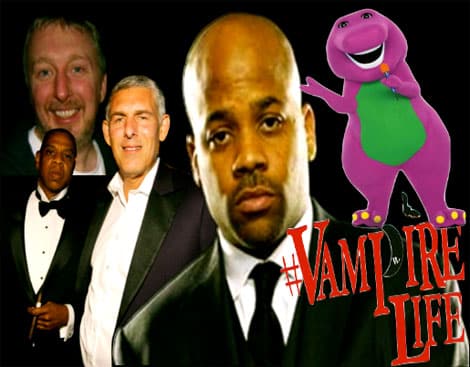 "They all conform so they can eat off of him"
Dame Dash is making damn sure nobody gets it twisted, letting it be known that he showed Jay Z every detail of the game.
Check out Dame's analogy of Jay Z:
"I'm not counting that man's money. No one's taken anything from me. It's like saying, 'I used to mess with a girl, and before I used to mess with her, she was mediocre. But because she started messing with me, I taught her things. I dressed her, and then I taught her how to have a career. Does that mean after we break up I'm still supposed to be able to get some ass?' Like, I don't feel entitled to that p*ssy. You understand what I'm saying? I don't feel entitled to nothing he's got.'"
That's what Dame told Details Magazine. The article is being featured in the publication's February issue. This while … Dame — a widely respected businessman, and the brainchild behind Roc-A-Fella Records — is about to make his 2014 power play.
Here's what Complex Magazine reports:
"While the article largely focuses on Dash's work with Jim Jones and his Vampire Life brand, as well as Dash's Lower East Side art gallery Poppington, Dusko brand whiskey and other ventures, Jay still looms over his head. The article's author Kevin Gray writes, 'If Dash has regrets—about giving up the power and the money and the influence he once possessed at Roc-A-Fella—he won't show it. As for Jay Z's vast empire—estimated to be worth $475 million—and cultural currency, Dash makes no claims to them." But, perhaps, it's because Dash sees his own value reflected in Jay.'"
From the article:
"Over the summer, Dame and Jay reconnected at a friend's birthday party in Williamsburg. Later in the year, Dame and his daughter Ava attended the Magna Carta Holy Grail Tour in L.A. and hung out with Jay backstage. However, late in the article, Dame eschewed Jay's lifestyle and criticized the executives that he rolls with.

"Dash says he was never cut out for that world—he wants to be a Richard Branson-type entrepreneur-cum-magnate, creating companies and then getting other people to run them. He also heaps scorn on the Def Jam team that would later become Jay Z's inner circle. 'Those people are corny. You think I'm rolling to a club with Lyor Cohen or John Meneilly?' he says, referring to the former head of Island Def Jam and Jay's manager. 'No disrespect to Jay—but every single person I see hanging around him is making money off him. They all conform so they can eat off him.'"