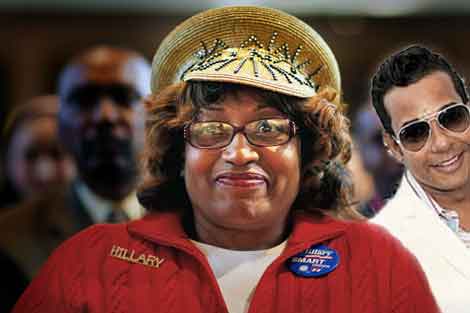 HSK Exclusive – Many shocking revelations were uncovered during our extensive investigation into the background of the man known as Raffles van Exel (real name: Raffles Dawson), but nothing more shocking then the revelations that a sitting Florida Superior Judge along with Congresswoman Corrine Brown and her office conspired with Raffles to obtain valid immigration status in the USA. Despite Raffles having been forcefully removed from the country on numerous instances prior and a criminal record for theft and fraud.
In these documents, exclusively obtained by Hollywood Street King, there is a conversation between Raffles and the Judge (for the time being we are keeping the identity of the Judge a secret). In this conversation, the Judge tells Raffles that he is, "forwarding Raffles information to a friend who will expedite the matter". The judge goes on to say that this friend is "trustworthy and confidential" and that Raffles should be "very candid."
The Judge follows that email up with another telling Raffles:
"I know that this will happen if it can. REDACTED is a pit bull as far as  tenacity goes and she knows I want this and she will follow through on each  detail. The contact person will be at her desk on Tuesday but should talk  with REDACTED on tomorrow. Keep the faith and spread it gently. "
Is this the reason major media organizations have not been able to find an INS record for the illusive conman Raffles Dawson? I don't know, but next time I see Florida Congresswoman Corrine Brown's chief-of-staff I'll ask him.
As it goes, the mystery Judge involved with Raffles forwarded his case on to the Congresswoman who had her chief-of-staff appoint a person close to the congress woman to handle the matter. This comes just three months after Raffles used the same Florida Judge to help craft a fraudulent employment letter for Raffles, which was then submitted to the American consulate. This fraudulent employment document implicates a major film studio, along with associates of Hollywood mega director, Steven Spielberg. For the time being HSK has decided to keep the names and emails confidential while we continue to sort through documents and allegations.
Entire Raffles Investigation revelations CLICK HERE