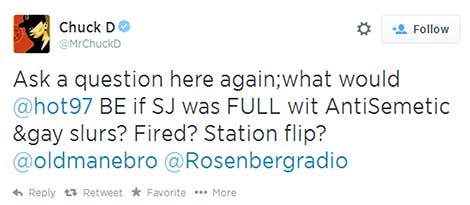 "That shit is over, If there was a festival and it was filled with anti-Semitic slurs… or racial slurs at anyone but black people, what do you think would happen? Why does there have to be such a double standard?" ~ Chuck D
Chuck D wants Urban radio to "get it right or be gone" — and he's not just talking about Hot 97 in New York. The Public Enemy co-founder has been in a Twitter war of words with the Hot 97 team since the station's Summer Jam concert on June 1, when he derided "what a sloppy fiasco (the station) has made of Hip-Hop."
Here is some more of what the Public Enemy had to say:
"My unhappiness about the Summer Jam — particularly over the prolific use of the N-word and a line-up that did not adequately represent the New York hip-hop community — was the last straw in a general dissatisfaction over the state of rap and radio stations that play and brand themselves with the music.

My goal by year's end is to change the face and sound of urban radio," D promised. "I've been in this shit 30 years, too long to just sit and let it be. I'm not going to be the grim reaper. I don't want to be the grim reaper. But people have to stand up and we need some change, and it's time."
This year's Hot 97 Summer Jam featured performances by Nas, 50 Cent, Childish Gambino, Iggy Azalea, the Roots, Nick Minaj, Wiz Khalifa and many more. Chuck D says he was particularly disturbed that the use of the N-word was so readily tolerated by the station and festival organizers.
"That shit is over, If there was a festival and it was filled with anti-Semitic slurs… or racial slurs at anyone but black people, what do you think would happen? Why does there have to be such a double standard?" ~ Chuck D
Citing the New Orleans Jazz & Heritage Festival as an example, D added that he felt it would be proper to include a contract clause for performers "to at least be civil in the presentation of the art form they've been granted with."
And though he said that he's "not trying to be a moral compass," D added that he also feels it's time for record labels to also consider clauses "saying you can't be derogatory to the community you can from" in contracts with their artists.
D said he was also disappointed that the Summer Jam lineup did not include enough local artists, especially for a radio station from the birthplace of rap and hip-hop culture.
"It's just a sloppy presentation of the art form, the worst presentation known to man," D explained. "It's negligent. There needs to be a greater representation of the culture and the community on that radio station." Broadening the discussion to the state of Urban radio in general, D said that, "When people say the word Urban, they don't know what that means. When they say urban music, they mean playing black artists — and artists outside the community. It should be a representation of playing music by a lot of different artists — non-black artists, too. I just want to see artists be able to have fair game." ~Chuck D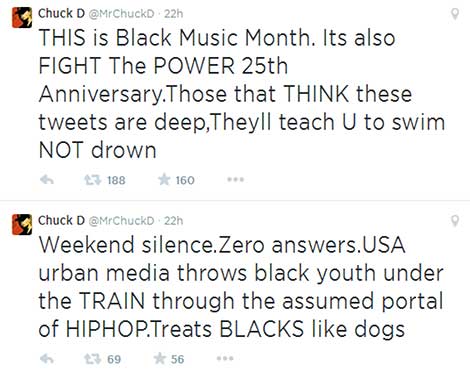 via yahoo news