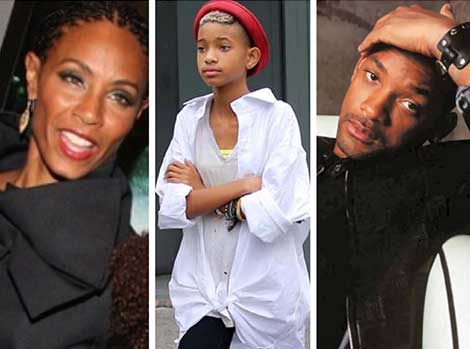 Days after Child Protective Services (who are a joke when it comes to protecting children) in Los Angeles questioned Will Smith's 13-year-old daughter, Willow about a controversial picture of her in bed with an older man, sources are revealing that investigators are now turning their attention to the individual in the photo, actor Moises Arias, 20, and are hoping to interview him about the incident.
"Social workers would like to talk to Willow's friend, Moises, about the photo which depicts them on the same bed together," an insider told Radar. "This is standard procedure for all investigations. There have been no allegations of any wrongdoing or illegal activity by Moises. Willow has already been questioned twice, along with her parents, Will and Jada."

"Moises is under no obligation to talk to authorities," the source noted. "Social workers just want to make sure there is proper adult supervision of the children in Will and Jada's house."
Authorities allegedly opened the investigation into the superstar couple after a photo of the teenager in bed with actor was posted on social media.
Here's the drop:
"Willow was questioned on two separate occasions by social workers from Child Protective Services. Once in the presence of her parents, and the second time, Willow was alone with the social workers. This is how all investigations are handled. Both Will and Jada have also been questioned. At this point, the investigation remains open, and won't be closed for at least another few weeks. Will and Jada have been extremely cooperative with officials," according to the source. "Of course, they aren't happy that their parenting skills are under scrutiny, but they understand." ~Source
The controversial photo prompted the investigation after the department received an anonymous tip.
"DCFS has come under fire for investigating the Hollywood stars, but the source insisted, "The department is legally obligated to investigate all inquiries from the public. They are legally obligated to do so… Imagine if something horrible happened to Willow, and social workers ignored it….there would be a huge outcry as well. During Willow's interview with social workers, "she made it clear that nothing inappropriate had happened with Moises. Moises has been friends with Willow and older brother Jaden, for years. The Smith's treat him as one of the family, and know he wouldn't take advantage of that trust.

The goal and sole focus of DCFS is to make sure that children are in safe and loving environment."