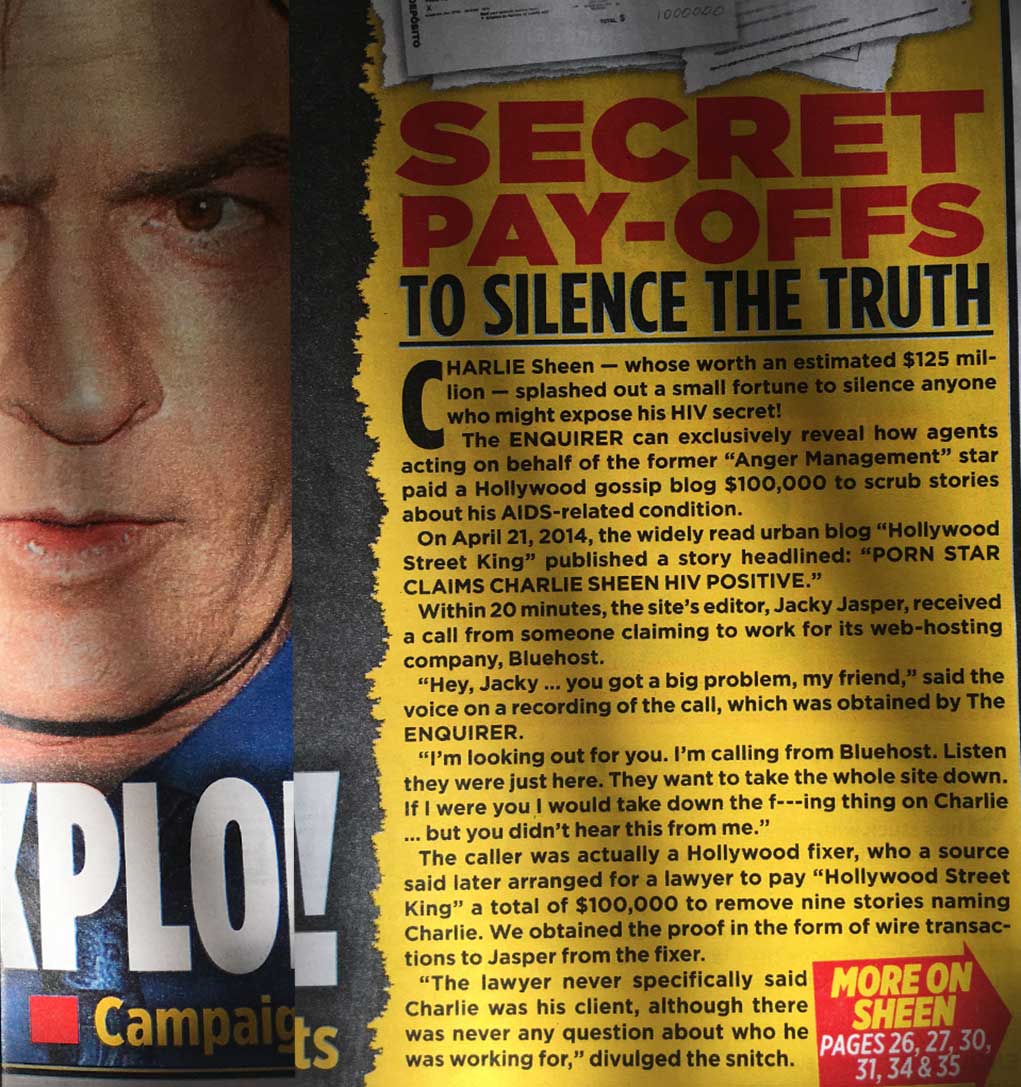 "Charlie has known for several weeks now that the Nation Enquirer was coming for his neck with the HIV infection revelations HSK revealed almost 2 years ago!"
HSK Exclusive – Charlie Sheen has the National Enquirer to thank for leading him in front of the cameras to confirm he carries the HIV virus. Know why? Had the popular tabloid news magazine not invested $1M into their 18-month investigation. Charlie Sheen might have decided otherwise, Matt Lauer wouldn't have gained all that Today shine, and the Enquirer would have been the first mainstream media outlet to recognize the very news which Jacky Jasper delivered years ago.
Sure, top Hollywood figures were aware that Charlie Sheen is HIV positive — and have known for at least two-years. Just ask former Sony Pictures exec Amy Pascal, who can confirm that some of the 'sensitive information' in those compromised emails from the November 2014 Sony Hack told of Charlie's HIV infection. "It's hard to be a drug addict and be HIV positive and do 40 eps a year," reveals an email from the hack. Still, HSK reported the news well before the Sony hack. In 2012, Jacky Jasper was contacted by Nicholas Chiassan, a Hollywood EDM DJ who told Jacky about Charlie Sheen's HIV diagnosis. Chiassan came with receipts to back his word: still pictures of prescription drug bottles containing medication prescribed to the actor — medication that's used to treat symptoms of HIV. Chiassan told Jacky that the images were obtained from a computer belonging to porn star Taylor Tilden. "I broke into Taylor Tilden's laptop," Chiassan explained. "I did it because she told me Charlie was paying her off to keep quiet."
Jacky Jasper ran with the story, leading HSK to deliver the exclusive drop revealing Charlie Sheen is HIV positive. That was two-years ago, when No one … Not TMZ … Not Gawker … No one picked it up. In fact, they called Jacky Jasper a liar. Know why? Because many of the attorneys representing mainstream media outlets are said to be on the take! Just ask Charlie Sheen's manager Mark Burg.
Jacky took a trip over to Mark Burg's office and this is what Burg had to say:
"Is Tom Cruise gay? Is John Travolta gay? Does Charlie Sheen have HIV? If so, prove it. Oh and by the way Jacky … everybody knows Charlie's a junkie that makes homemade porn films … nobody cares."
Jacky would later learn of a budget to fund the cover-up and discredit Jacky Jasper and HSK … and many joined the bandwagon. Nonetheless, Jacky Jasper carried on with his investigations and a transgender tipster would follow-up with more shocking findings about — not only Charlie Sheen — but other Hollywood celebrities too!
Dig the Drop:
"I used to see Charlie and Eddie Murphy. I like Charlie because he treated me better. Eddie is an asshole."