and His Manager Mark Burg Could Care Less!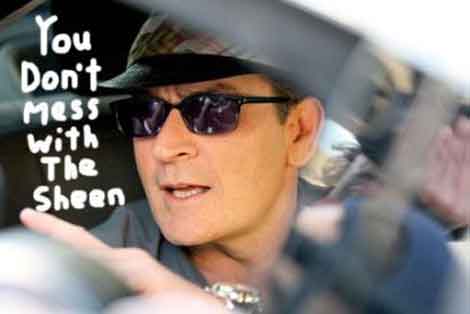 HSK Exclusive – Last Sunday night I was shown pictures of Charlie Sheen, and guess what? Charlie allowed someone to take pictures of him surrounded by large amounts of paraphernalia. I asked Nicholas (He's the guy who was showing me the pictures of a drugged out Charlie Sheen) if I could have a copy of those pictures?
Here's what Nicholas had to say:
"I can't give you a copy. Charlie is my friend. He took me to Vegas, bought me my first suit. Those pictures were taken at his house. I bring him girls and my friend Rob is his dealer."
I noticed there were two young ladies in the pictures with Charlie and I asked Nicholas who the girls are?
Here's what Nicholas continued to say:
"That's Chayse Evans and that other girl is Jaelyn Fox, Charlie bought her a Cadillac. He's a real cool guy."
48 hours later I was given the hard drive that had all the evidence of Charlie Sheen's love for Crystal Methamphetamine. I immediately rushed home and hooked up the drive to make sure I had the proof. A few hours later I went and turned back on the hard drive and guess what? It didn't work. Know why? Because the hard drive got damaged mane.
I'm told from the Geek Squad that all I must do is change the casing of the drive.
Then I mentioned to a Hollywood executive friend of mine that I wanted to get hold of Charlie's people to tell them what story I was coming with. One week later I was sitting in Charlie's managers office, Mark Burg (producer of the Saw Series).
Here's what Charlie Sheen's manager Mark Berg had to say:
"I've seen a thousand pictures of Charlie using drugs. Do you have the porn tape? I need to see it. Leave the hard drive with me and my computer guy can retrieve it. What's your name again? Jacky you gotta trust me. I'm leaving L.A. on Wednesday and I come back on Friday."
The hard drive is currently being fixed, so sometime down the road you will all see the images of Charlie doing Crystal Meth and partying with lowlife porn stars.
P.S. I called Mark Burg for a further comment, but he had already left town.
Stayed Tuned.