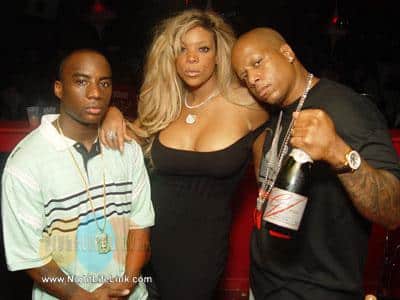 Though he claims Williams, 52, taught him everything he needed to know about radio in his three-year stint as her sidekick, Charlamagne claims the pair fell out over a business deal gone wrong.
After his gig with Williams ended due to supposed corporate politics, Charlamagne claims Hunter represented him in negotiations for a new job in Philadelphia.
Hunter, he alleges, insisted the new employer shell out a whopping $350,000 a year, though the initial offer was just $70,000.
"He was always extremely aggressive in trying to get more money out of situations," Charlamagne says in the book, out April 18. He'd yell at and often threaten people till he got what he wanted. I can't lie: It's worked for him with Wendy. But it wasn't how
I wanted to do business."
Feeling his manager's terms were outlandish, Charlamagne told Hunter he was going to approach the company alone and accept $75,000.
"I'm not f***ing with you anymore," the MTV star claims Hunter texted him in a rage. "You did some foul s**t. Lose my number."
Though the fight did not involve Williams, the talk show hostess ultimately ditched her former friend as well.
"As for Wendy, she is the ultimate ride-or-die chick," Charlamagne explains. "I know she feels she has to have her husband's back and I have to respect that."
Before the husband/wife team turned on him, Charlamagne claims there were red flags with their behaviors.
"One thing I learned not to do from watching her was to treat the people who work for you poorly," he writes. "Wendy and Kev could be very cruel to the people who worked under them."
One day, he was "shocked" to see Hunter berate Williams' "well-spoken," "sweet" assistant, Zoey, for "no reason."
"I just really like messing with Zoey," Charlamagne claims Hunter said. "Man, she just lets me talk to her any kind of way."
In tears, the assistant ended up quitting that day.
Skip to 1:20