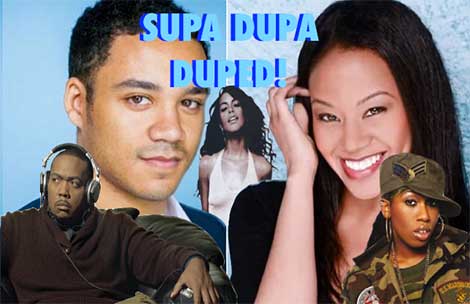 Word on Lifetime's 'Aaliyah: Princess of R&B' project only gets worse each time a news release is dropped. The proof is in the pudding … and that pudding ain't chocolate! In fact … not only do Chattrisse Dolabaille [reportedly cast as Missy] and Izaak Smith [revealed to be filling the role of Timbaland] share little to no resemblance to the pair, both actors' complexions are way off! What's next, black face?
"Dolabaille is a newcomer to Hollywood. She's a Canadian actress, singer and dancer. Izaak Smith, on the other hand, was a contender on "So You Think You Can Dance Canada."
It's gonna be interesting to see how people react. Know why? It appears the Timbaland and Missy may have been deemed 'too Black' for their liking. Don't you agree?
Here's what's out there:
"The well-known hip hop collaborators were instrumental in shaping Aaliyah's music — and their work on her biggest success, her sophomore album "One In A Million," helped to catapult all of their careers to new heights."