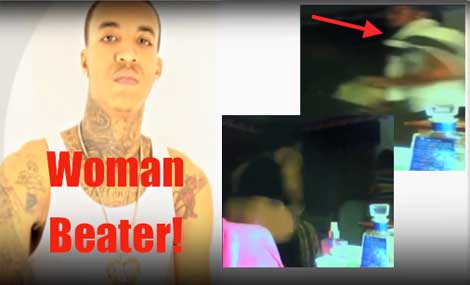 Details behind HBK's Thanksgiving beat-down reveal the Doughboyz CashOut rapper could have been knocked out for laying his hands on a female, back in February. Know why? Earlier this year, Delon 'HBK' Person was caught on tape attacking one of two apparent call girls, inside of a Motor City motel room.
"Ya'll coulda been fukkin' with the wrong b!tches."

That's why payback is suspected to be the reason behind why HBK was clocked unconscious by a group of men, reported to have snatched dude's chain. BOTH incidents were caught on camera … The latest being Delon 'HBK' Person getting hemmed up at a party in Detroit's Cobo Hall, Thursday night.
The other tape, leaked back in February, exposes the CashOut crew beefing with a pair of apparent call girls — one of the two reported to have suffered a "broke wrist" by HBK's aggression.
Here's what KollegeKidd.com reports:
"The Detroit-based rap group found themselves in media spotlight back in February after motel footage surfaced showing the rappers involved in a physical confrontation with two women. Group member Crispy Quis took to Twitter to comment on the situation. DoughBoyz CashOut gained mainstream recognition after signing with Young Jeezy's CTE imprint."


Was HSK the first to report Young Jeezy was robbed, last November, at the same Detroit convention center? Of course! Just ask Freddie Gibbs.