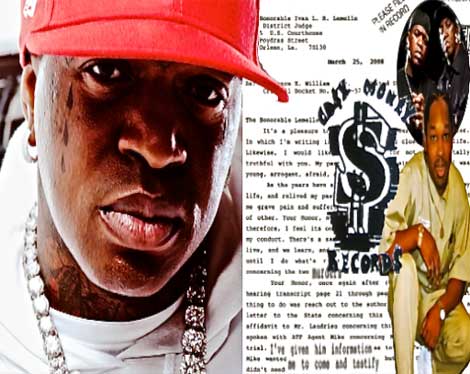 Is He His YMCMB Brothers' Keeper?
HSK Exclusive – The 1997 unsolved murder of one of the first set of artists signed to Cash Money Records — 22-year-old U.N.L.V. rapper, Albert 'Yella Boy' Thomas — appears to be a shooting death YMCMB's three founding fathers know everything about. Don't believe me.. Just ask Birdman's locked-up-for-life half-brother, Terrance E. Williams (aka 'Gangsta'). The convicted drug kingpin — and last surviving member of New Orleans' notorious Hot Boys "D-Boy clique" — is a proven inmate-turned-informant, looking to land a get out of jail card! A tipster tells us… that's why Birdman and Slim "ain't at ease".
"I will testify to these events in a Court of Law and Indictments and Prosecution to solve these two murders."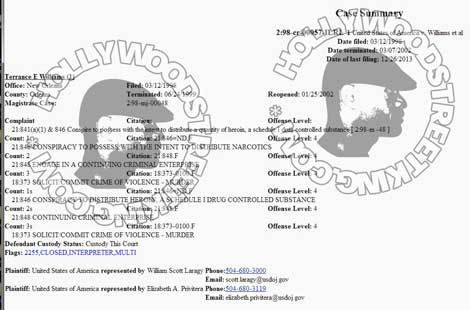 You may recall… Back in 1999, 'Gangsta' Williams — reported to have put up "around $100,000" to start the Cash Money record label — was delivered a life-sentence "plus 240 years for 'continued criminal enterprise' and 'conspiracy to commit murder.'"
Now, HSK has exclusively obtained court documents uncovering Gangsta's February 2008 official declaration to give up information "in two murders…awarding [him] a sentence reduction."
"I have very valuable irrefutable information concerning two homicides and one attempt murder." ~Terrance E. Williams, to New Orleans, LA District Attorney Keva L. Jones, February 29, 2008.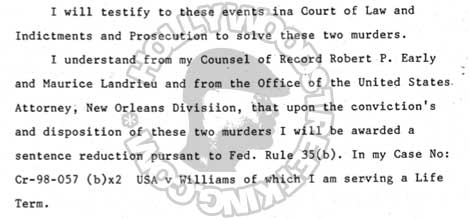 In Terrance E. Williams' following 'AFFIDAVIT IN SUPPORT OF SENTENCE REDUCTION', filed on April 25, 2008, 'Gangsta' confirms the 'freeman time' he was bargaining for… in exchange for the information he provided. Nearly two-years later, an arrest was made in connection to a cold case homicide. According to the docs… that murder was one of the two detailed for the feds, by Terrance E. Williams.
Here's what NOLA reported on April 12, 2010:
"A dozen years after 17-year-old Colon Cains was gunned down in Central City, New Orleans police have arrested and booked a suspect with first-degree murder.

On October 8, 1997, police responding to a call of a shooting at Second and Lasalle streets found Cains' body inside of a vehicle with a gunshot wound to his head. Cains died in the hospital.

The murder went unsolved until NOPD Detective Decynda Barnes reinvestigated the case, said NOPD spokeswoman Officer Hilal Williams, and identified 37-year-old Alton Patterson as a suspect last week.

Police booked Patterson with one count of attempted first-degree murder and one count of first-degree murder."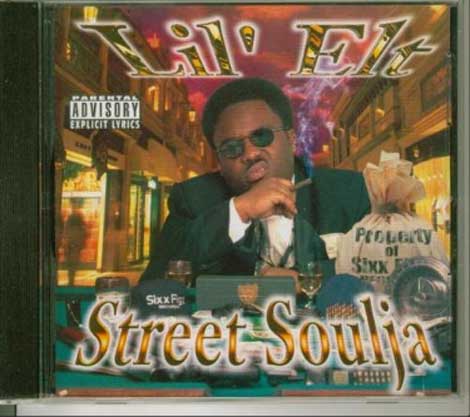 A source reveals… "Get the Gat" rapper, Alton G. Patterson — artistically known as 'Lil' Elt' — was signed to Cash Money in the early 90's. We're told, "Patterson was found not guilty" of the murder charges against him. As for the December 26, 1997 murder of Ishmael Fernandez cited in the docs… despite Terrance Williams' drop detailed, the murder case is said to remain unsolved to date.
With longtime word pegging Birdman as behind Yella Boy's murder, insiders reveal that's the case homicide that detectives have been focused on solving for some time now. While Terrance Williams currently continues his life-sentence behind bars, a tipster tells us the former Hot Boyz drug kingipn is penning a tell-all… said to have sparked Birdman and Slim to question if their Gangsta CMB is their brother's keeper.
Here's the drop:
"Word on the streets is Gangsta is signing up to be a state witness.

Yella Boy boss'ed up to Birdman and Slim over royalties they owed him and his group. It wasn't long after that when Yella was rocked to sleep.

The tear drops Birdman and Wayne got rep they know who murked Yella Boy.

Wayne must feel like a jackass because Birdman used him up. Wayne owes the IRS more than $12 million and Birdman doesn't give a f*ck. He's a YMCMB employee… Birdman and Slim run, own errythang."