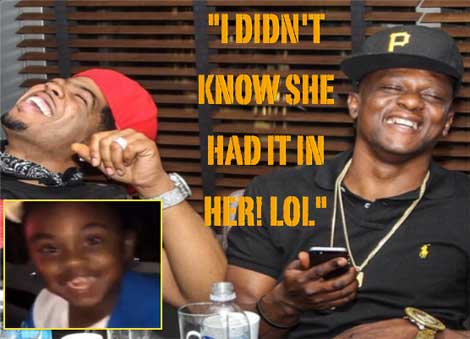 "Tarlaysia drops the N-word multiple times and so casually, you'd think she's singing her abc's."
Lil Boosie seems to think his five-year-old daughter-gone-ratchet is something to laugh at… actually, he did laugh at it! That pretty much gives you the gist of what Boosie — whose real name is Torrence Hatch — had to say in response to backlash over last week's release of that N-word riddled video featuring Tarlaysia Hatch as turnt over her jailbird daddy's homecoming… from the tank.
"Rather than scold the youngster, Boosie Bad Azz defended her dicey words and N-word usage."
Peep what Boosie had to say about it:
"I was too happy to fuss. You know, after that I told her I didn't want her saying the word. But, she was one of those that went through 'your daddy ain't coming home', 'yo daddy this' in schools and such. So, I think it was just..when I called her and told her I was coming home, I think it was all the stuff she went through coming out. I didn't know she had it in her. [Laughs]"
Tarlaysia's mother, Walnita Decuir-Hatch, has two other kids with Boosie — Torrence Hatch, Jr. and Ivyana Hatch.