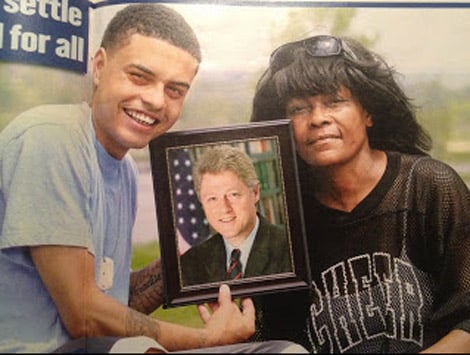 Did Bill Clinton father a secret lovechild with a hooker? Sources say yes! The now 27-year-old bi-racial Little Rock, Arkansas man is now hoping to finally meet his biological dad.
Reports reveal Danny Lee Williams Jr. was conceived back when his mother was working as a prostitute and Clinton was Arkansas' Governor. That's when the then-future "I never had sexual relations with that woman" President reportedly paid Bobbie Ann Williams for her sexual services, leading to their secret lovechild.
So, why has Danny Lee Williams waited so long to surface? He says he simply wants to meet his 66-year-old Presidential father — who's battling heart disease and suffers from Parkinson's — before he passes.
Here's what Danny Lee Williams told Globe Magazine:
"I read he doesn't have long to live and I want to meet him face to face before he dies. I just want to shake his hand and say, 'Hi Dad,' before he dies. I'd like to have a relationship with Chelsea, too. She's my half-sister. I would also want my dad to acknowledge and meet his five grandchildren children."
Does Bill Clinton see a prostitute for sex whenever he visits the west coast? Of course. Don't believe me.. Ask Cristina Warthen.