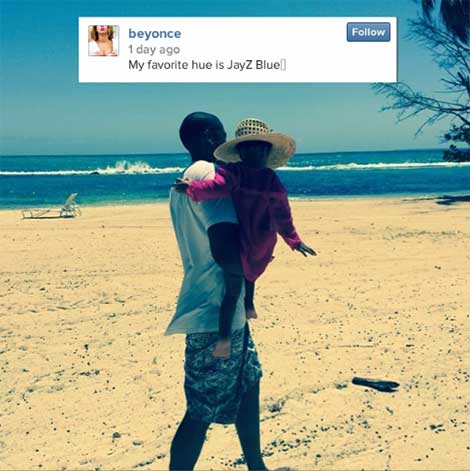 Bey's like, 'What Break Up?…. Releasing staged pictures to keep the couples multi-million dollar "On The Run" tour profits to grow.
Just look at my IG pic of Blue with Jay!' — relying on a photo of Young Hov and their daughter Blue Ivy Carter to silence the gossip this week.
The 32-year-old posted a photo to her Instagram Tuesday afternoon of her rapper hubby carrying their toddler Blue Ivy across a tropical beach. "My favorite hue is Jay Z blue" she noted as he stood against a gorgeous sea.
Here's what an industry insider had to say:
"This is a classic case of damage control. Staged photos,tweets, it's a business relationship. They're on tour and to get through the tour they have to put up a persona. It's all spelled out. It's more financially beneficial for them to continue the tour and the Instagrams and tweets while all this is happening. That's how damage control works."