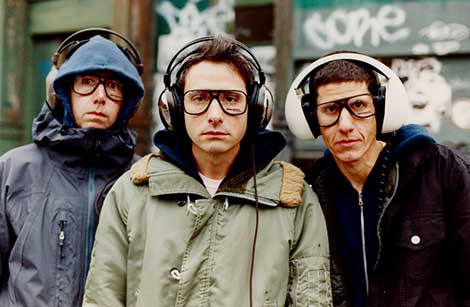 "We're happy. We just want to thank the jury." ~Adam "Ad-Rock" Horovitz
Beastie Boys have won a $1.7 million verdict in their copyright lawsuit against Monster Beverage over the company's use of the group's music in a promotional video, according to Reuters.
The group sought up to $2.5 million for copyright infringement and false endorsement, though Monster countered that the maximum amount it owed was $125,000. The company called the case "illogical," admitting that it had infringed the group's copyrights, but stating that an employee inadvertently believed Monster had permission to use the music.
"Although Monster Energy has great respect for the verdict of the jury, we strongly disagree with it," Reid Kahn, attorney for Monster, tells Rolling Stone. "We will make an application to the Court to set aside the verdict and we intend to file an appeal. From the inception, Monster Energy has been willing to resolve this matter in a fair and equitable manner and we will continue to make additional efforts to reach a just resolution of this dispute."
The group initiated the lawsuit in 2012 following the death of Adam "MCA" Yauch. The suit, filed by Mike D, Ad-Rock and Yauch's widow Dechen, claimed that Monster included parts of "Sabotage," "So What'cha Want," Make Some Noise" and "Looking Down the Barrel of a Gun" in a promotional video posted on Monster's website, along with a 23-minute medley of Beastie Boys songs made available for download as an MP3. The songs were taken from footage of a live set by DJ Z-Trip at the Monster-sponsored Canadian festival Ruckus in the Rockies, held a few days after Yauch died in May. Yauch's will specifically prohibits any company from using the group's music for advertisements.
According to the legal opinion dismissing Z-Trip's involvement in the case last November, the presiding judge noted a Monster employee had sent Z-Trip a rough cut of a video using his Beastie Boys megamix. When Z-Trip replied, in part, "Dope!," the employee interpreted that to mean he had permission to run the video on Monster's website. Z-Trip testified that he was merely "convey[ing] that I liked how I appeared in the video."
A bulk of the opinion was spent on defining the legal definition of the word "dope" and if it legally constituted a license for Monster to use the video. As the court notes, "In proper context, the word 'Dope!' could certainly be taken as an expression, albeit unorthodox, of approval and acceptance of another's antecedent offer," the court said. "But here, Z-Trip's exclamation, 'Dope!' was in response to [the] query, 'Please have a look at the video from this past weekend and let me know if you approve.'
"Viewed in this context, Z-Trip's response of 'Dope!' plainly communicated that, in some sense, he 'approve[d]' of 'the video.' But such approval is quite distinct from conveying assent to a mutual exchange of promises or other consideration. And it certainly did not convey that Z-Trip had authority to approve, on behalf of the Beastie Boys, a free license to Monster to use the Beastie Boys' recordings and songs."
When asked for comment on Beastie Boys' court victory, Z-Trip told Rolling Stone, "Dope!"
via RollingStone