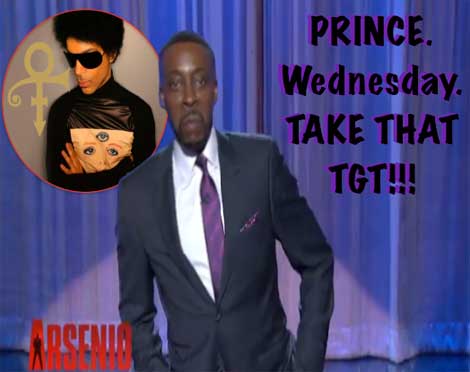 Arsenio's getting the last laugh on Tyrese Gibson. Know why? The OG Dawg Pounder is going Purple… Just ask Prince! The 'Breakfast Can Wait' brother arranged for his "letter-bearing clone" to deliver his message to Arsenio, letting the OG late night talk show host know he's got Prince on his side.
"Take that, TGT!" ~Arsenio Hall
That's why — exactly two-weeks after Baby Boy's Three Kings group pulled a no-show on Arsenio — Prince and his Three Purple Queens, 3rdEyeGirl will be Raining all over Arsenio's TV stage.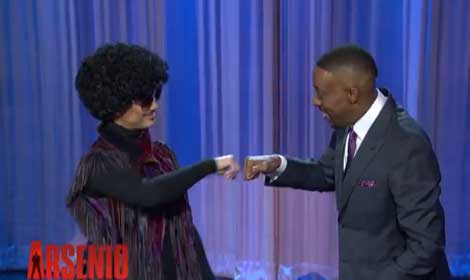 Here's what Prince penned to Arsenio:
"So here's why I'm writing you… The Arsenio Hall Show has always been so welcoming to us in the past and we wanted to return that favor. Just say the word and we will bring our whole crew over to your place, and do a performance you will never forget.

Just in case you haven't heard, I've been practicing and I've gotten pretty good now. If that's cool, we'd like to come on the show next week — perhaps Wednesday.

Have your people contact my people, and we'll invite some more people… like all of America."

-Prince
Arsenio responded saying this:
"This is very cool. Hey, Prince… dawg, I don't have people. The answer's 'Yes!' I'm my people, brother. Thank you… and we'll see him Wednesday. Prince. Prince, Wednesday. Take that, TGT!"
http://youtu.be/-dR–pHx45w