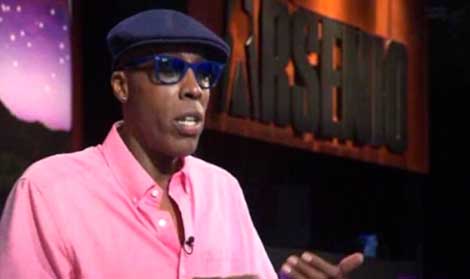 If Arsenio Hall had his way … not only would 'urban America' tune into his late night talk show, "Jimmies" would be cut out of the game he once reigned. Don't believe me.. Just ask Roland Martin, who Arsenio recently revealed his ratings slump to.
HSK broke the story … You'll recall more than two-weeks ago, we were the first to report The Arsenio Hall Show could soon be heading to CBS' chopping block. That was just two-months after Arsenio marked his comeback to late night talk television.
Now, Arsenio admits he could be a small fish swimming in Jimmy-infested water.
Here's what Arsenio Hall told Roland Martin:
"It's a crowded market. There are too many Jimmies in late night, and if urban America supports my show, I could survive in a crowded market."
Here's what's being reported:
"Arsenio Hall came back to the late night circuit 24 years after he last debuted. Unfortunately, his newest talk show isn't delivering as expected. Ratings have taken a nosedive after the show's first week. Maybe it was nostalgia viewers were first feeling; longing for their favorite late night show from the '90s. But that is not the show of today."
Did Arsenio Hall put in a call to his ex-BFF Eddie Murphy, begging the comedian to pull through as a guest to boost ratings? Of course.. Just ask Miguel A. Núñez, Jr.