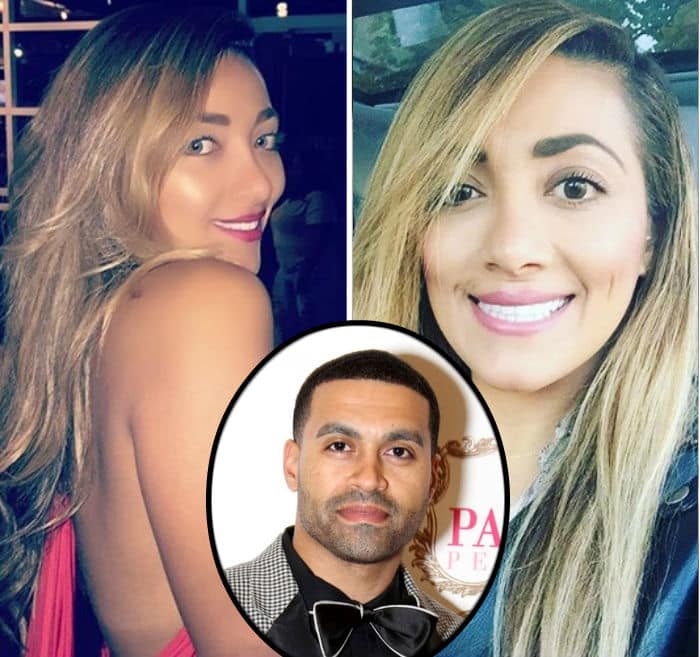 On the most recent episode of The Real Housewives of Atlanta, Apollo Nida's fiancée wandered into OLG — Kandi Burruss' new restaurant — and introduced herself to the ladies.
Sherien Almufti wanted to extend her support since Apollo couldn't make it. She also thanked Kandi and Todd for their continued support of the couple. Kandi kept it real and pointed out that she'd only been supporting Apollo. Until that moment, she didn't know Sherien existed.
Speaking to Us Weekly, Sherien tries to explain how she and Apollo got so close. And she really, really wants everyone to believe they were just friends until after he was in the slammer.
The pair started their "friendship" in 2013. They became close wen Apollo was looking into real estate deals in Philadelphia. But the night he turned himself in to prison, something magical happened.
"I think the night we took him away [to prison] I felt something completely different. Like, we've experienced something, you know. He cried on my shoulder. We held [each other] for a while. I just let him know — I told him as a friend — 'I'm gonna be there for you.' See, he was there for me, as well. … So I, in return as a friend first, before anything else, I told him I was gonna be there for him. Because I watched how a lot of people kind of just turned their backs on him."
After Apollo began serving his eight-year sentence, Phaedra Parks filed for divorce. She declared herself single last July, but recently a judge declared the marriage to be intact due to the fact that Apollo's last name was misspelled and he hadn't been served final papers.
Sherien says she has a "deep respect for marriage" and that's why nothing happened between her and Apollo until after his split with Phaedra.
"I was married before and my husband cheated on me. And at the same time, I was actually dating someone. So I wasn't like — it wasn't that way. It was just more — it started out as a business situation."
But as she continued to visit Apollo in prison, they became closer. Of course there have been no conjugal visits, but when they do see each other, they "tongue each other down."
Then last November, Apollo fashioned a ring out of toilet paper and popped the question.
"He just held my hand and he asked and I didn't think he was serious and I was like, 'What? This is not how I obviously imagined you asking me to marry you, but OK. But, yeah, it was unexpected. But he did promise me a different proposal — a different setting.